- ECONOMIC IMPACT -
The global economy is forecasted to return to pre-crisis levels by the end of 2021 or early 2022.
India is projected 12.5% growth in 2021 ahead of China which is forecasted to grow by 8.6%, according to the IMF.
The IMF has raised its world economic growth forecast for 2021 to 6% from its earlier projection of 5.5% in January 2021.
According to the OECD, the unemployment rate in OECD nations stood at 6.7% in Feb 2021, marginally down from 6.8% in Jan 2021.
Impact of Covid-19 on equity indices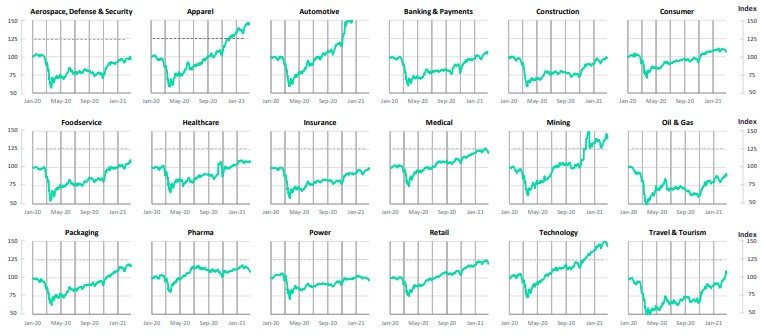 - SECTOR IMPACT: PHARMA -
CVS reported a 40x increase in the use of telemedicine and virtual services via its MinuteClinic division compared to pre-Covid-19.
Clinical trial activity has slowly started to turn around from disruption due to Covid-19 with 32% of resumed trials in Phase II.
The Covid-19 pandemic has created a massive global effort centred around finding effective therapeutics and vaccines.
While the development and commercialisation of a safe vaccine typically take at least several years to materialize, Pfizer/BioNTech Covid-19 has beaten that timeline by a considerable margin with the UK becoming the first market to approve the jab.
Vaccine candidates using classic technology will likely take at least 12-18 months to develop; however, timelines for DNA, mRNA or adenoviral vaccines are indeed shorter as multiple vaccines from Pfizer/BioNTech, Moderna and AstraZeneca now have demonstrated efficacy in the prevention of Covid-19.
Nevertheless, with pharmaceutical companies shifting their strategies to focus on the development of Covid-19-related assets, the non-Covid-19 drug development programs have been brought to a temporary backseat.
Key pharma market developments