How the pharmaceutical control tower is evolving
Today's global supply chain has a greater number of suppliers, carriers, customers, and logistics channels, all using different business tools. However, legacy systems are unable to deliver crucial supply chain information, like changing demands, delivery delays, or other supply chain impacts. Does your control tower support your current needs?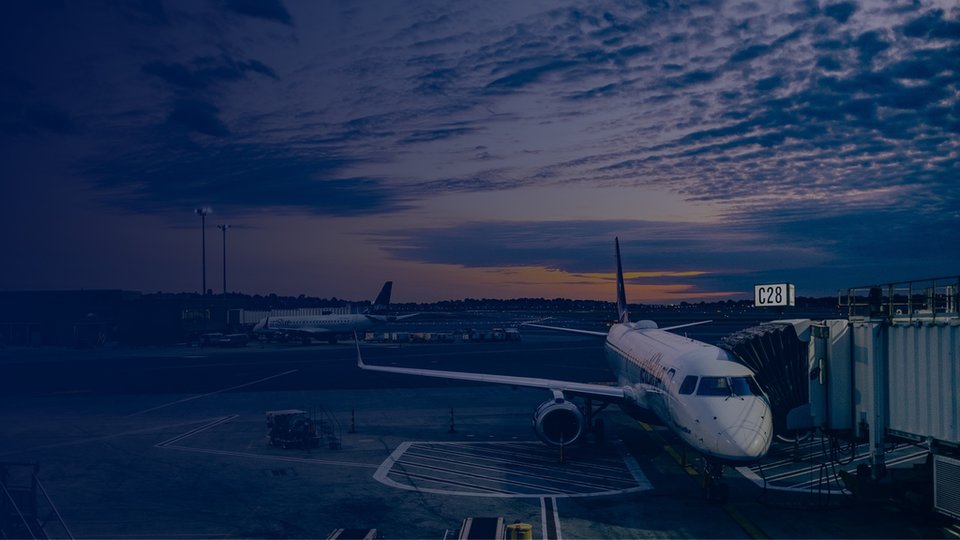 Pharma manufacturers utilize enterprise resource planning, quality management, and other digital business systems to connect their supply chain. However, businesses often feel that they are drowning in data, and at the same time, are having trouble finding insights with so many disparate systems. Poor data control is responsible for significant supply chain issues, given the existing silos, handoff points along the supply chain, and potential errors. These issues prevent companies from making their data work for them to create efficiency, improve quality, and reduce costs.
The COVID-19 pandemic demonstrated that pharma supply chains need to realign their processes, people, and data and identify improvement opportunities while also building resiliency for future challenges.
Visibility is necessary, but not sufficient
Often, companies respond to today's crisis at the risk of making longer-term improvements based on comprehensive data. Utilizing the right information to gain insights enables control, which facilitates improvement, and a focus on continual improvement identifies new opportunities.
While collecting visibility data is critically important, it is insufficient on its own. Supply chain leaders need to analyze data, determine root causes, investigate alternatives, and understand their impact and opportunity costs—gaining insights that drive action.
The changing supply chain control tower
In response to these challenges, the pharma supply chain control tower has arisen. A control tower acts as a centralized hub, using data from existing platforms, integrating with other systems, processes, and tools across the end-to-end supply chain, and driving tangible business outcomes.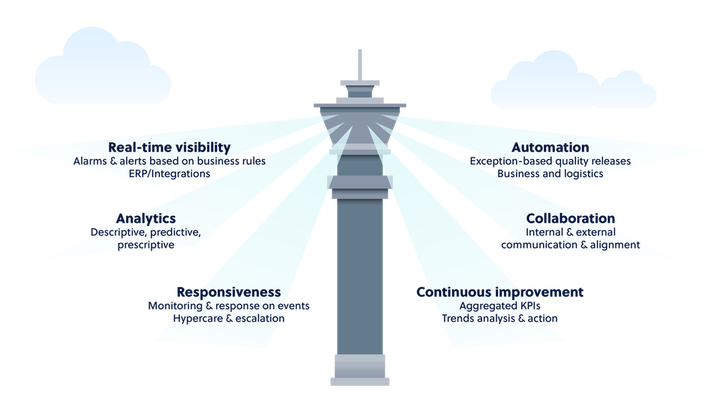 Control towers are designed to provide visibility and discern real-time key performance indicators populated by data across the extended value chain. A comprehensive pharma supply chain control tower should provide four key benefits to the entire supply chain team, including internal and external stakeholders:
Visibility – provides real-time access to information across the end-to-end supply chain. IoT data loggers travel with the products delivering quality condition along the supply chain so that stakeholders can be proactive and prevent lost loads.
Automation – includes an exception-based quality release process, singling only the problem shipments that require further review; business and logistics processes are further automated through workflows and communications processes.
Analytics – contains powerful analysis tools that enable supply chain managers to make sense of visibility data, performing "what if" analysis to facilitate effective, rapid response and root-cause analysis to drive operational and process improvements.
Collaboration – data is the currency of the future and enables enterprises to make decisions by automatically connecting people and processes to work towards a common goal. The COVID-19 vaccine distribution has clearly demonstrated the need for greater collaboration and responsiveness throughout the supply chain.
Responsiveness – ensures that each part of the supply chain knows the impact of other segments, helps enable continuous improvement, and includes the ability to respond to problems before they escalate.
Continuous improvement – may be achieved by setting and measuring against tangible KPIs, measured using data. Trends may be more easily responded to, and action plans developed to drive continuous improvement.
The benefits of the pharma supply chain control tower
To describe the difference between a control tower and what most companies have through reports and data visualization tools, consider an airport control tower's role. If air traffic controllers only had visibility into landed planes, the results would be disastrous.
Pharma supply chains should be no different. Yet, many businesses only have visibility into landed products. Post-shipment data may be fragmented yet can be converted into operational analysis—but does it add value, or is it just more numbers to review?
To be truly empowering, the pharma control tower not only needs to report on the data in the supply chain, but it needs to understand the relationships between people, processes, and products. It must be able to convert data into insights to be able to respond to risk. The pharma control tower should highlight exceptions, shortages, critical orders, bottlenecks, excess inventory, and potential delays. It can only do this if it has much more than visualization capabilities; it needs to have built-in intelligence.
Today, most data is descriptive and shows historical information describing what has already happened, with limited insights. Diagnostic data uses descriptive information to analyze why it happened. Predictive analytics go one step further by discovering underlying problems, offering recommendations needed for the best results, and delivering insights on how to solve those issues.
Prescriptive analytics deliver insights that enable businesses to act before delays or deviations affect the end consumer. This data controls performance and ensures that cross-process teams understand why issues occurred so they can work to prevent them from happening again. They supply stakeholders with the ability to shape the future, support business strategies, minimize losses, and generate true value.
Data automation, artificial intelligence, and machine learning will enable businesses to work in entirely new ways, improving delivery efforts of drugs and biologics, delivering better business outcomes, improving customer satisfaction, and increase sustainability.