Image: Atomwise CEO and co-founder Abraham Heifets
Russia's focus on domestic pharma production could shield it from sanctions' effects
Russia's pharma manufacturing is more focused on the domestic market due to its comparative lack of FDA and EMA approvals.
Dr Judith M. Sills. Credit: Arriello
Dr Eric Caugant. Credit: Arriello
Russia is an already insular country and its worldview has tended to be self-contained, but this has hardened in the face of recent sanctions and counter-sanctions imposed during the war with Ukraine. Compared with other emerging pharmaceutical markets (such as India and China, covered in previous Emerging Market Outsourcing Reports), Russian facilities lack many US Food and Drug Administration (FDA) and European Medicines Agency (EMA) approvals, meaning Russian manufacturing is more focused on the domestic market.
Western countries have responded to the ongoing conflict and alleged atrocities by increasing both the range of sanctions against Russia and military support to Ukraine. On 3 June, the European Union (EU) adopted a sixth round of sanctions against Russia and key individuals, including a phase-out of Russian oil. The EU has also removed several Russian banks from the Society for Worldwide Interbank Financial Telecommunication (SWIFT), the banking payments system. US President Joe Biden has gained approval from Congress for a new package of aid worth $40bn, and the US government announced last month that it plans to provide an additional $1bn in security assistance to Ukraine.
Although medicines tend to be excluded from trade sanctions as they cause loss of life, Russian pharma companies may struggle to secure funding in the face of economic sanctions and there may also be a disruption to non-essential medicines. The FDA's 2023 funding bill, currently awaiting full House of Representatives approval, includes an amendment forbidding approvals of Russian drugs with an exception for serious unmet medical needs.
Several global pharma companies have already withdrawn their support following Russia's invasion of Ukraine, which began on 24 February. On 15 March, Eli Lilly (Indianapolis, Indiana) suspended the export of 'non-essential medicines' to Russia. Pfizer (New York, New York) has announced that it will not begin any new clinical trials in Russia and will halt recruitment in trials that are underway in Russia. AbbVie (North Chicago, Illinois) and Novartis (Basel, Switzerland) have also withdrawn from their businesses in Russia.
Companies that own Russian pharma contract manufacturing or supply chain sites include Novo Nordisk (Bagsvaerd, Denmark); UPS (Atlanta, Georgia, US) subsidiary Marken (London, UK); Thermo Fisher Scientific (Waltham, Massachusetts) subsidiary Patheon (Durham, North Carolina); Servier (Paris, France); and Takeda (Tokyo, Japan).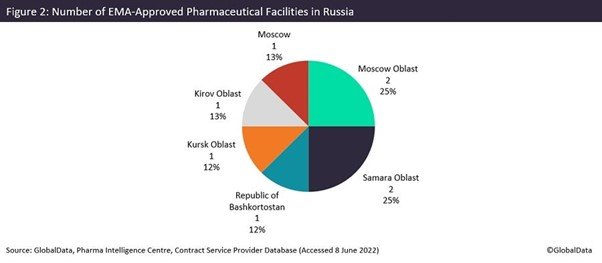 When we approached those companies for comment on whether those Russian facilities could continue production amid sanctions, Marken told us that the company, "through its good manufacturing practice (GMP) facilities in Russia and transportation of clinical materials to/from Russia, provides support to pharmaceutical sponsors and CROs/CMOs conducting clinical trials in Russia… Airlines with flights into Russia are limited. Additionally, import/export activities within Russia are overbooked, limiting operational capacity for the movement of goods." It added that "Although Ukraine operations at our GMP facility were initially impacted, the site reopened and has been fully operational since 5 April."
Servier referred us to a statement announcing that it is suspending the start of new clinical trials in Russia and Belarus, as well as recruitment of new patients for ongoing trials, and that it will donate the profits from its subsidiary in Russia this year to support humanitarian action in Ukraine.
A spokesperson at Takeda told us: "We have taken action to discontinue activities in Russia that are not essential to maintaining the supply of medicines to patients and providing ongoing support to our employees. This includes suspending all new investments, suspending advertising and promotion, not initiating new clinical trials and stopping enrollment of new patients in ongoing clinical trials."
Novo Nordisk's website states: "We have suspended further marketing and clinical investments in Russia and are focusing our efforts to help our local employees and to ensure more than 700,000 patients can continue their treatment with our essential medication. The factory in Russia is still operating to supply medication to patients in Russia… In Russia, we are pausing starting new clinical trials and halting active enrolment of new patients, where there are currently more than 3,000 patients enrolled."
Thermo Fisher states on its website that "Given the ongoing conflict, we have paused sales and manufacturing operations in Russia and Belarus. We continue to prioritise critical healthcare-related deliveries and operations in these countries to limit any potential patient impact. In addition, our clinical trial service delivery in Ukraine has been temporarily halted and will resume once safe to do so."
Soon after the invasion, the president of Bavaria announced that the German state would no longer allow Russia's Covid-19 vaccine, Sputnik V, to be produced at a facility in the region. The region had signed a letter of intent in April last year with the vaccine's financial backer, the Russian Direct Investment Fund (RDIF), to purchase 2.5 million vaccine doses upon EMA authorisation. Russian pharma company R-Pharm (Moscow, Russia) had set up a production facility in Illertissen, Bavaria, to produce the vaccine.
Even if Sputnik V were to be approved by the EMA—now a more unlikely prospect than ever—"it is inconceivable from our point of view that this project can now be realised. It is over," Bavaria's president told the state's parliament shortly after the outbreak of war. Instead, Russia's Foreign Minister stated that Russia is in talks to move Sputnik V production to several Middle Eastern and North African countries.
Russian sites supply home market
Russia is the world's largest country, occupying one-tenth of all the land on Earth, so large that it spans across the continents of Europe and Asia. Most pharma sites operating in Russia are owned by domestic companies. The lack of integration with other countries limits the potential effect of pharmaceutical-related sanctions.
There are no US FDA-approved pharma manufacturing facilities in Russia. Persistent tensions between the two former Cold War enemies have continued for decades even before the war in Ukraine, and these have potentially affected pharma trade between the countries, despite the US having the largest pharma market globally.
Europe has been comparatively more reliant on Russia, with eight EMA-approved sites, though this is still very few given the close geographical proximity between the EU and Russia. Despite Russia's size, EMA-approved sites are only present in Russia's western states, such as in Moscow and Kirov.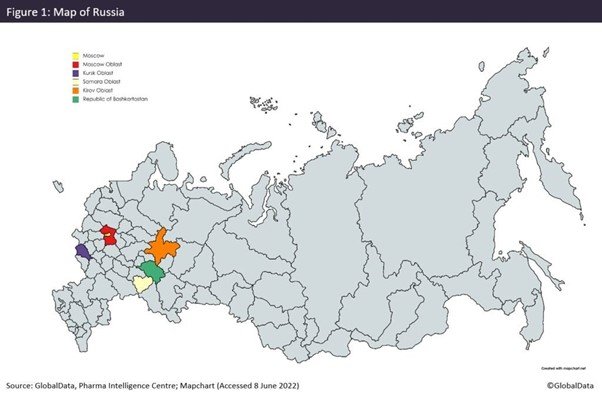 There are a total of 72 manufacturing sites in total, mostly with approval from the Russian regulator, Federal Service for Surveillance in Healthcare (Roszdravnadzor), showing an emphasis on domestic production. Pharmstandard (Moscow, Russia) and Pharmasyntez (Irkutsk Oblast, Russia) own five facilities each in Russia, the most of any pharma company. Roszdravnadzor was founded by Vladimir Putin in 2004.