CMO Moves: Regulatory catalysts for drug manufacturing
Pharmaceutical Technology Focus does a roundup of regulatory decisions from late April to early May that inpact drugs and the CMOs enlisted to manufacture them.
Regulatory decisions have a ripple effect, first affecting the pharma sponsors, and then the companies tasked to manufacture the drug. Pharmaceutical Technology Focus takes a look at drugs and biologics with recent regulatory verdicts that will likely impact manufacturing volumes. In this ongoing series, we put a spotlight on contracts between pharma companies and contract manufacturing organizations (CMOs).
This analysis covers late April to May and is based on a list of CMOs impacted by regulatory decisions by the US Food and Drug Administration (FDA), European Medicines Agency (EMA), and reimbursement authorities like the UK's National Institute of Health and Care Excellence (NICE). 
Pharmaceutical companies regularly outsource different steps of drug manufacturing processes like parenteral manufacturing and packaging, solid dose, and small molecule or biologic active pharmaceutical ingredient (API) production, among others. This analysis is based on the GlobalData Pharma Intelligence Center's Deals database and PharmSource reports.
Covid-19 vaccines stay in the spotlight
Even as regulatory agencies contemplate the authorization of Omicron-specific Covid-19 vaccines, existing versions continue to make headlines. In early May, the FDA limited the use of Janssen's Covid-19 vaccine after an updated assessment of the vaccine's risk of thrombosis with thrombocytopenia syndrome. Janssen Pharmaceutical Companies of Johnson and Johnson's one-shot vaccine will now be indicated when other vaccines are not accessible or when it is clinically appropriate for adults.  
Several companies have been charged with manufacturing different components of J&J's vaccine. Hyderabad-based Biological E and Emergent Biosolutions are contracted for biologic API and parenteral manufacture, while biological API and parenteral manufacture and packaging have been outsourced to Catalent and Merck & Co.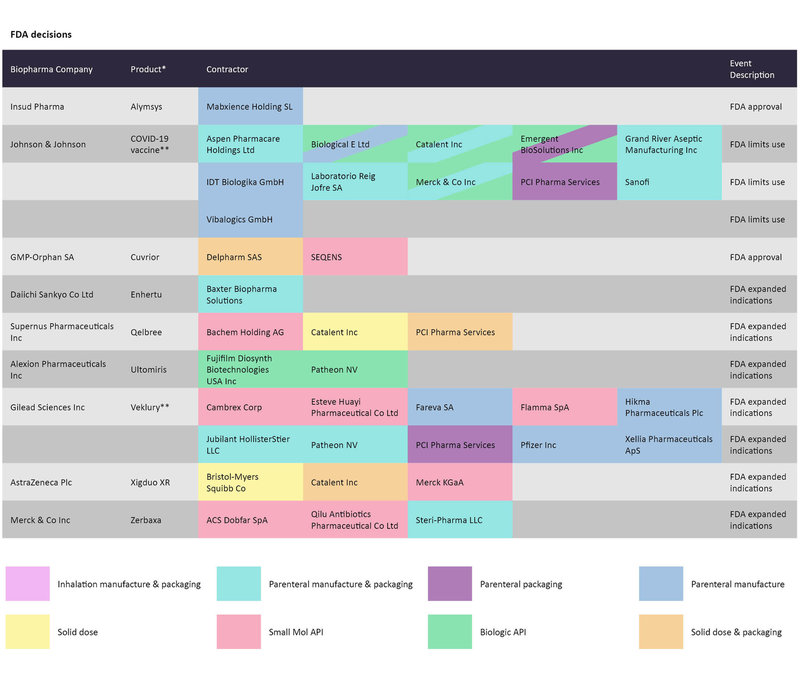 FDA decisions since late April for biopharmaceutical drugs and the CMOs contracted to manufacture them. Source: GlobalData Pharmaceutical Intelligence Center
Consequential FDA and EMA decisions
Outside of Covid-19, the FDA and European Commission both approved Novartis's CAR-T for treating follicular lymphoma in adults. Melbourne, Australia-based Cell Therapies, Munich, Germany-based Fraunhofer-Gesellschaft, and Oxford Biomedica are tasked with manufacturing the biological API for the cell therapy.
The FDA also expanded the label for Supernus Pharmaceuticals' drug Qelbree to also include attention deficit hyperactivity disorder (ADHD). This was the first non-stimulant drug approved for ADHD in over a decade. Supernus has outsourced the manufacturing of different components to Bachem Holding, Catalent, and Philadelphia, Pennsylvania, US-based PCI Pharma Services.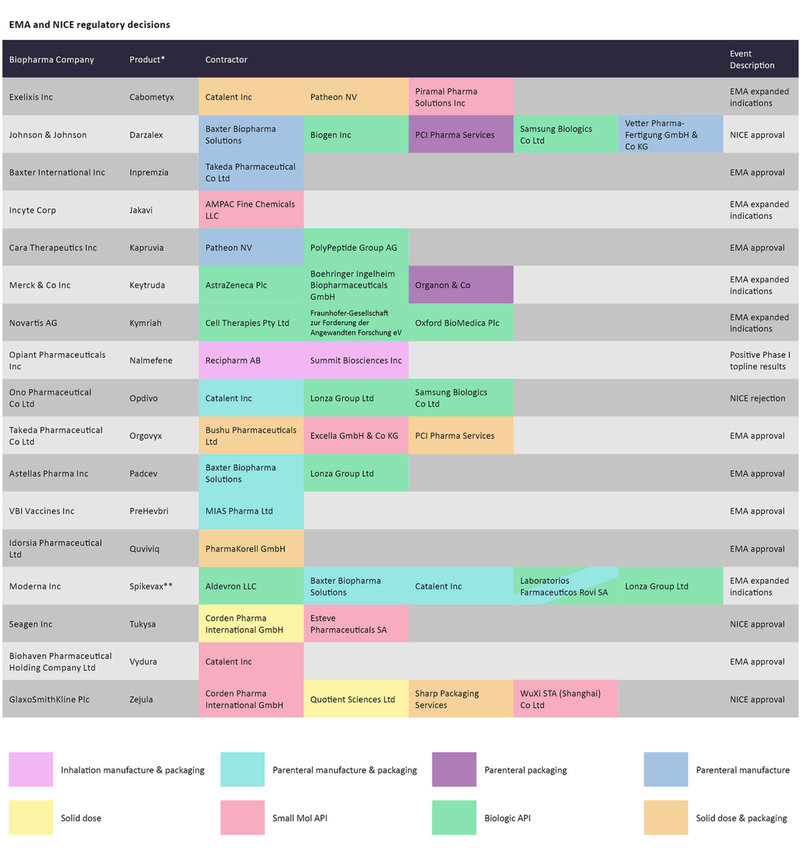 EMA and NICE decisions since late April for biopharmaceutical drugs and the CMOs contracted to manufacture them. Source: GlobalData Pharmaceutical Intelligence Center
In late April, the GnRH antagonist relugolix was approved under the brand name Orgovyx in Europe to treat hormone-sensitive prostate cancer. Relugolix was initially developed at Takeda Pharmaceuticals, which then launched Myovant with Roivant Sciences. Saitama, Japan-based Bushu Pharmaceuticals, Feucht, Germany-based Excella,and PCI Pharma Services have been contracted to manufacture different components of this drug.
A few weeks later, the FDA extended the review period for relugolix as a treatment for pain associated with endometriosis, with an updated PDUFA date of August 6. Myovant will launch the drug in collaboration with Pfizer in the US, if approved by then, and receive a $100 million milestone payment from the latter.   
To read the previous edition of this series, click here.
Main image: Macrovector / Shutterstock.com