The following section will look at the areas in robotics where healthcare providers and payors, pharma companies, and medical device manufacturers should invest.
The matrix below details the areas in robotics where pharma companies should be focusing their time and resources. We suggest that cmpanies invest in technologies shaded in green, explore the prospect of investing in technologies shaded in yellow, and ignore areas shaded in red.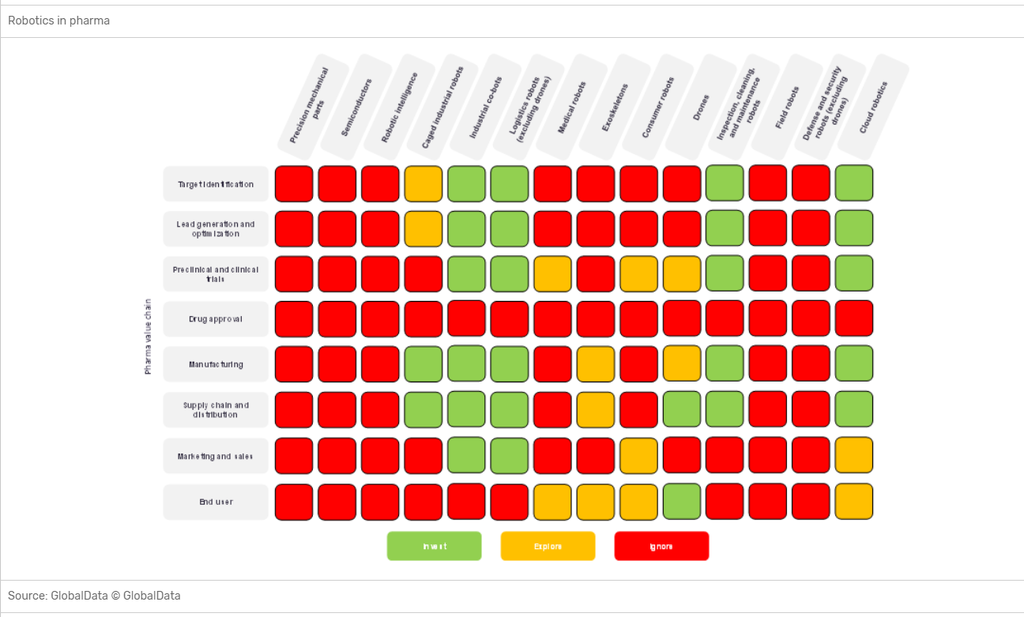 Robotics can be useful across most of the pharma value chain for various ends, from speeding up drug discovery and development activities, to improving the health and safety of workers in research facilities and manufacturing plants.
Inspection and cleaning robots will ensure the validity and safety of drugs, while drones will be important for the distribution of drugs, as seen during the pandemic. Industrial co-bots, logistics robots, care robots, and inspection robots could reduce the costs of completing clinical trials, and further enable decentralised trial design. Industrial co-bots will also help with complex R&D and manufacturing tasks.
Pharma companies should also explore the medical robots and exoskeletons segments. Partnerships with medical device companies can prove beneficial both for educating patients on pharma products, collecting patient data, and helping with clinical trials, among other tasks.
For example, Merck Group's partnership with Furhat Robotics resulted in a health pre-screener robot, PETRA, for the early diagnosis of a range of conditions, including hypothyroidism. Consumer robots could be useful for similar purposes, particularly for reminding patients to take medication.
Medical robots and exoskeletons are the two most important segments of the robotics value chain for healthcare, and healthcare providers and payers must invest in them. Surgical robots are deployed for minimally invasive procedures to reduce human error, improve patient outcomes, and reduce hospital stays.
Other robots such as hospital and care robots can reduce the burden of patient care and mundane tasks. Inspection, cleaning, and maintenance robots are also essential for healthcare providers following the pandemic as the transmission of the SARS-CoV-2 virus became a top priority.
Following the Covid-19 pandemic, providers and suppliers will greatly benefit from logistics robots and co-bots to automate processes, making up for gaps in the workforce and increased demand.
Drones will be a growing area of interest for healthcare providers, offering on-demand delivery to remote areas, as will consumer robots that interact with the patient at home, reminding them to take medication and assessing their health and behaviour at home. For example, Pillo Health's robot dispenses medication, reminds the patient to take it, and notifies the caregiver if the patient forgets.
The emerging segment of cloud robotics will allow providers and suppliers to keep a track of installed robots and to collate collected data, such as that from surgical robots during surgery.
How robotics helps resolve the challenge of Covid-19
Robots played an important role during the Covid -19 pandemic. Cleaning robots provided an extra line of defence in healthcare settings as staff went into isolation, sanitising rooms to reduce transmission rates between patients and staff.

Cleaning robot vendor Xenex noted a boom in orders in March 2020 for its $125,000 disinfecting robot, particularly in Italy and across Asia as the pandemic began. Drones were also used to disinfect public places in China and India during the pandemic. Industrial co-bots were used to quickly analyse Covid-19 point-of-care testing swabs, originally at the University of California Berkeley, and care robots helped to reduce transmission rates in hospitals, reducing the need for nurses to be in direct contact with patients.

For example, in 2020, Boston Dynamic's Spot robot greeted arrivals and took patient vitals at the Brigham and Women's Hospital in the US.

In the pharma and medical devices sectors, industrial co-bots and caged industrial robots helped to speed up manufacturing processes as demand exploded for Covid-19 vaccines and devices such as ventilators. In an article by A3, leading industrial robotics vendor ABB commented that the pharma sector was more aware of the benefits of robots following the Covid-19 pandemic, as companies had to significantly boost production.

Drones also proved to be useful during the Covid-19 pandemic for lab sample pick-up and the transport of medical supplies and vaccines to remote locations. For example, in India, the i-Drone pilot project delivered 900 doses of the Covid-19 vaccine in less than 15 minutes, covering over 31 kilometres.

According to GlobalData, there was a drop in surgical robot sales at the start of the Covid-19 pandemic, down 10% in Q1 2020, 37% in Q2 2020, and 28% in Q3 2020, compared to Q4 2019. However, surgical robotics can help healthcare providers to tackle the patient backlogs resulting from the Covid-19 pandemic, although this will be dependent on whether the pandemic continues to ease, as waves of infections have impacted sales.
For example, Globus Medical cited a reduction in business in Q1 2022 because hospitals were "limiting access and shifting their focus to managing through the uptick in Covid cases".

To future-proof in the event of further pandemics, pharma will benefit from automated facilities such as cloud robotics-enabled research laboratories from vendors including Strateos. Remote-controlled labs would reduce the impact of containment measures on R&D.
How robotics helps resolve the challenge of ESG
Robotics already provide pharma, medical devices, and healthcare providers with opportunities to improve their environmental footprint. Industrial cleaning robots, such as Xenex's LightStrike Robot, reduce water usage, while autonomous mobile robots replace traditional vehicles in the transportation of goods, reducing GHG emissions. The use of industrial robots in manufacturing processes and supply chains can ensure the efficient production of drugs and medical devices.

Converging robotics with AI will enhance this further, predicting product and material demand, reducing waste, and ensuring energy efficiency. The integration of these technologies will also be particularly useful in sustainably maintaining cold chains required for some drugs.

Robots also offer opportunities for improving a company's social performance. Medical robots help to enhance the quality of patient care, such as assisting staff with limited experience in complex surgery in less-economically developed countries.

Industrial robots improve manufacturing efficiency and reduce the cost of developing drugs and treatments, improving market access. Similarly, drones increase patient access, delivering medications to remote regions with poor logistics infrastructure. For example, Zipline is in charge of 75% of blood distribution out of Kigali to rural health facilities in Rwanda.

Robotics may also present new ESG challenges. Currently, use cases for robotics in healthcare primarily involve addressing staff shortages and freeing staff from unsociable hours and dangerous or repetitive work.

Unions, policymakers, and social scientists are increasingly concerned that automation will lead to increased unemployment. Each industrial robot can replace several human workers, so these worries do not seem unfounded. However, if the economy can create higher-value jobs for the workers that robots replace, the deployment of robotics in the industry will be a positive development.
How robotics helps resolve the challenge of aging populations
Considering the aging global population and strained social welfare budgets, technologies that can ease this burden will be welcomed by healthcare providers. By carrying out simple tasks such as helping patients to get into and out of bed, care robots can dramatically cut the cost of nursing elderly patients and provide nurses with more time to carry out other important tasks.
For example, in Japan, RIKEN and Sumitomo Riko's Robear care robots have been available on an experimental basis since 2015. The number of robots being used to provide care and support to elderly and disabled patients is currently low.
However, this is expected to change significantly over the next decade, with the care robotics market set to reach $4.1 billion by 2030, according to GlobalData. Use cases will become increasingly complex, casting care robots as companions that are able to provide emotional support and human-like interaction.

Similarly, surgical robots will support providers by assisting in a growing share of surgical procedures globally, helping to meet the increasing demand for surgical intervention as a result of age-related diseases.

Future developments in this field will focus on improving the quality of life of elderly patients by making many procedures less invasive, with an attendant reduction in recovery time and associated cost. For example, a 2022 research trial across UK hospitals by UCL found that recovery times from robotic-assisted bladder removal surgery were on average 20% lower than from non-robotic-assisted surgery.

In the future, developments in micro-robots will significantly enhance surgeons' abilities to perform minimally-invasive procedures in treating and diagnosing age-associated diseases. This could potentially offer breakthroughs in delivering drugs to the brain, clearing the clogged arteries of patients with heart disease, and carrying out biopsies in previously inaccessible areas.
How robotics helps resolve the challenge of staff and skills shortages
Robots provide a convenient but expensive solution for healthcare providers experiencing staff shortages. However, as the technology becomes cheaper and the stress on healthcare systems grows due to demographic changes, providers will look to deploy the technology to cope with demand.

In emergencies lacking staff with adequate expertise and in countries lacking educational resources to train surgeons in complex techniques, robotic-enabled telesurgery will be regularly performed using virtual reality (VR) or augmented reality (AR).

Telesurgery allows doctors to operate on a patient while being in a different physical location through the use of robotic arms. However, surgical robots will never fully replace surgeons and will instead serve as tools to aid in the surgical process.
How robotics helps resolve the challenge of drug discovery and development
Automating processes in the drug discovery and development pathway with robotics supports faster analysis and hit generation, thereby reducing the time and cost of moving a drug from the lab to the clinic.

GlobalData's Smart Pharma 2021 Survey found that 22% of industry professionals thought robotics would be one of the most disruptive technologies optimising the drug discovery and development process, ahead of other technologies such as digital twins and blockchain.

Industrial co-bots in laboratory environments carry out repetitive and complex workflows, and if connected via the cloud, workers can also benefit from real-time results. Many pharma companies are already using robots for high-throughput screening in drug discovery, handling liquid compounds, and testing millions of samples for activity against a biological target.

AstraZeneca is taking it one step further and automating the entire design-make-test-analyse cycle for drug discovery in its Swedish iLab. Robotics are also useful in improving the health and safety of research workers, by handling harmful or dangerous substances, and reducing exposure to allergens from work with laboratory animals. For example, Getinge's Cage Handling System automates the cleaning of animal cages.
How robotics helps resolve the challenge of smart manufacturing
The pharma industry is looking for more ways to enhance the productivity of its complex manufacturing and supply chain processes. The deployment of robotics can lead to substantial enhancements beyond productivity increases, resulting in better compliance, consistency, and operational excellence. The use of robotics in pharma manufacturing is not new, with early examples including AstraZeneca's installation of robots in a Swedish plant in 2007, and it is progressing.

The convergence of 5G, IoT, and sensors could allow for manufacturing robots enhanced with AI to be programmed to continually adjust their performance to achieve optimal productivity and efficiency. Cloud robotics allow pharma to store the vast amount of real-time data being collected, making it available across the company to better control processes, enhance production, increase visibility, enhance supply chain management, and improve decision-making processes.

Pharma companies are investing in high-tech manufacturing facilities combining robotics and other technologies. For example, Bayer is building a smart production plant in Finland using robots to increase the production of its world-leading contraceptive drug, and Takeda is creating a robotics-enabled cell therapy manufacturing facility in California.

GlobalData's Smart Pharma 2021 survey found that robotics was considered to be the most disruptive technology in pharma manufacturing processes. However, many respondents indicated that they were not using robotics and that they believed it would take more than five years for the use of robotics to peak in pharma manufacturing.

This may be attributed to the fact that the use of robotics has currently not reached its full potential in pharma manufacturing and that it is still in the early days of adoption. The highest current use of robotics is in Asia-Pacific, and can be explained by these countries having implemented strategic initiatives to strengthen their manufacturing competitiveness.
How robotics helps resolve the challenge of last-mile delivery
Drones can improve access to healthcare and accelerate the delivery of medical supplies, while also emitting lower carbon emissions than conventional transport systems. The Covid-19 pandemic highlighted the potential for drones in the industry. For example, in the US in August 2021, UPS delivered Covid-19 vaccines to Atrium Health Wake Forest Baptist Medical Center using Matternet M2 drones.

The drones contained a special cargo box with cold chain technology to ensure that the vaccine was stored at the right temperature. In Ghana, Zipline, in collaboration with Pfizer and BioNTech, delivered on-demand messenger ribonucleic acid (mRNA) Covid-19 vaccines that required ultra-cold-chain technology.
GlobalData, the leading provider of industry intelligence, provided the underlying data, research, and analysis used to produce this article.
GlobalData's Thematic Intelligence uses proprietary data, research, and analysis to provide a forward-looking perspective on the key themes that will shape the future of the world's largest industries and the organisations within them.