Sponsored by Biosynth Carbosynth
Breaking out of the Niche- Challenges and Opportunities of a Fully Hybrid Products and CDMO Services Business
Many chemical product companies offer some form of custom synthesis, while some CDMOs have limited routine products on offer- whereas Biosynth Carbosynth are uniquely positioned as both a full catalogue chemical company and an experienced CDMO with large-scale and GMP capabilities. This unique combination presents a great opportunity for their customers, but also challenges in ensuring delivery of high-quality research reagents as well as complex, scalable manufacturing projects.
Initially occupying a niche that includes carbohydrates, nucleosides and enzyme substrates, Biosynth Carbosynth have a long history of being able to provide hard to find, complex and innovative products. At a time when many companies are reducing their catalogues, this extensive and varied catalogue of over 220,000 products continues to expand across all product sectors, from everyday lab reagents to cutting-edge research materials.
Producing these products at increasing scale and quality in their facilities also provides the other side of the business as a full service CDMO, providing everything needed to make customer's products; from route design, scouting and custom synthesis to kilogram batches in a GMP pilot plant or tonne quantities made and produced at ISO 9001.
With a varied set of customers and a motto of "no chemistry is too hard for us – if we don't have a compound, we'll make it," there is a considerable challenge in how to structure the company to meet customer needs. Biosynth Carbosynth's CEO, Urs Spitz, explains how this is achieved - "we wanted the structure of the company to focus on our customers. To ensure that, we have two divisions. These have significant overlap, but each have a distinct customer base and set of needs."
Biosynth Carbosynth's division structure to deliver products and CDMO services
The Research Products division is focused on small-scale research products, selling small quantities in large numbers to research customers across the globe. The company has invested heavily in a global network of manufacturing and distribution sites across Europe, America and Asia, ensuring supply chain continuation. The work-horse analytical technique used on most research items is NMR and Biosynth Carbosynth have NMR machines in four hub locations. This allows high throughput QC testing of incoming materials and ensures the quality demanded in the Life Science sector. There is also the offer of analytical fee-for-service in case a parameter a researcher requires is not routinely on test certificates.
By contrast, the Pharmaceutical and Diagnostics Products division operates on more bespoke, larger scale and more complex projects. This includes both Biosynth Carbosynth's own products and those of their CDMO customers, making the most of the company's expanding manufacturing sites.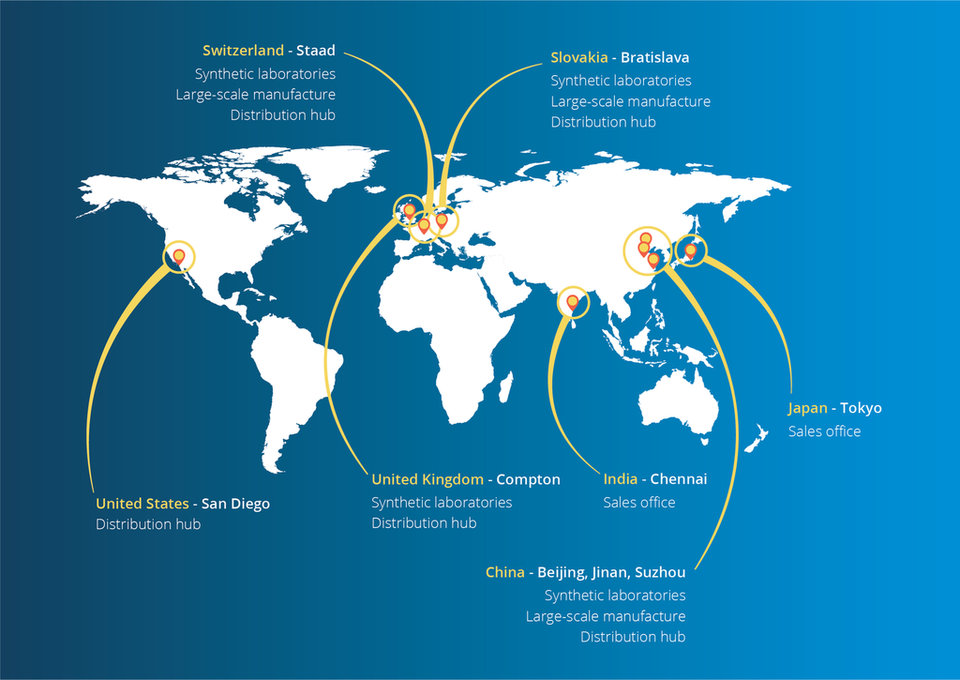 Biosynth Carbosynth's global locations
Head of Research Products, Bruce Rogers, talks about how the product catalogue has changed, "Research Products is all about delivering high quality research chemicals to enable Bioscience and Pharma research industries to thrive; we really take the lead from emerging areas of interest. Although the company has always had specialty within carbohydrates and nucleosides, as well as enzyme substrates, the catalogue and expertise of Biosynth Carbosynth goes much further than that and encompasses a huge range of ligands, natural products, controlled substances, antimicrobials, the list goes on. We are especially proud of our expanding collection of coronavirus research and diagnostics products and have worked hard to ensure we hold stock of these to supply rapidly."
Often, customers start out encountering Biosynth Carbosynth by purchasing research products and then come back for some customisation and work with the Pharma and Diagnostics team, maybe even moving on to CDMO services with their own product, for them it's all about the relationships and being a trusted partner.
Head of Pharmaceutical and Diagnostics Products, Vicky Gibson, explains how her team approach the different projects that they work on; "we've always prided ourselves at Biosynth Carbosynth in taking on the most complex challenges in chemistry and solving the problems that no one else can. This means the teams of synthetic chemists and production staff are uniquely skilled and able to work very flexibly across different areas of our product portfolio." Effectively scheduling the use of facilities and staff is a key component to the success in delivering both sides of the business.
As the CDMO business has expanded, this flexible way of working has really benefitted customers. Clients can utilise either Biosynth Carbosynth's entire end-to-end service offering or pick out the aspects that they need at the time they need them. Vicky explains further- "for example we've had projects that we've taken right through from early development and seen into the GMP suite and others in which we have simply transferred in a process, made some small improvements and scaled for large-scale manufacturing at tonne scale."
Biosynth Carbosynth's end-to end CDMO services
With a long history of manufacturing high quality products and a very active innovation culture that includes novel AquaSpark® Chemiluminescence, X-Shining™ Luciferase and Aldol® Substrates & Probes, Biosynth Carbosynth continues to expand its products and service offering. They remain open to a new challenge – remember - "no chemistry is too hard for us – if we don't have a compound, we'll make it".