Nowadays, promoting economic circularity is key, regardless of the industry domain. The Italian company, one of the European leaders in filtration technologies, is highly committed to study innovative filtration solutions for challenging new applications.
In the context of economic circularity and sustainability, BEA Technologies research is oriented to the creation of innovative filtration solutions, to promote operational efficiency, reducing energy consumption and processing with limited waste.
In particular, in the field of filtration of critical products for the pharmaceutical sector, BEA Technologies has created MAGNEXFLO an innovative, green solution that is suitable for solving a wide range of specific filtration problems. This system is extremely versatile and allows numerous customizations based on the most specific needs.
MAGNEXFLO can be castor-mounted for full mobility and operational flexibility
The Italian company, therefore, responds to the demands of the pharmaceutical sector, and is among the most innovative companies, entering the context of the new current challenges: "We are currently studying green products, specific for pharmaceutical applications", declares Roberto Bea, President of BEA Technologies, who considers Research and Development as the key to success. "Our goal is to become the European reference leader in providing innovative filtration products for this sector; our efforts are dedicated to consolidating our position as a significant global player, without losing sight of the need for a radical renewal of our economic model, aiming at circularity."
The purification of gels for pharmaceutical use and liquids with a viscosity higher than that of aqueous solutions represents a problem in drug production systems and in filling glass containers, where low flow speeds associated with sterile filtration of more viscous products are slowing down production processes (especially if depyrogenation and sterilisation filtration are required).
The purification of gels for use in the pharmaceutical, cosmetic and medical sectors is a challenge, especially if it is necessary to guarantee very low final endotoxin content. The gels are highly biocompatible and serve to coat the active ingredients, to allow a controlled release and increase the assimilable quantity of a specific drug. Recently endotoxin-free purified gels have also become important in stabilizing vaccines and other sensitive formulations, to reduce risks of secondary reactions for improved patient safety.
These issues demand purpose-designed equipment, and BEA's MAGNEXFLO with its high capacity and automatic filtration technology perfectly responds to this call.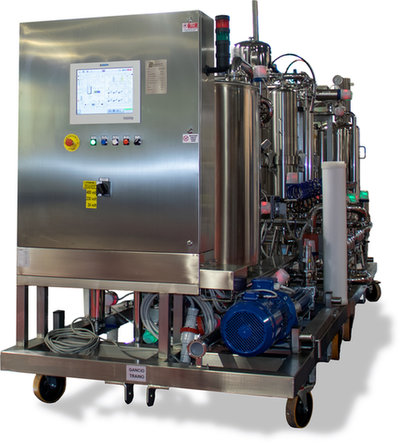 MAGNEXFLO by BEA Technologies is a fully automated and stand-alone filtration system for clarifying viscous gels and solutions
All BEA Technologies activities are regulated by the Quality Management Manual for the design, production and distribution, and after-sales service phases. The Quality Management System is certified by an international body and recognized according to the ISO 9001 and ISO 3834 standards.
Thanks to this new line of automatic regenerable filters, the Italian company fits into the international commitment to sustainability and continues in the pursuit of its mission: to design filter elements and high-tech filtration systems capable of satisfying the growing requirements of the production, through the continuous improvement of processes and performances.
Discover more on www.bea-italy.com