Sponsored by Owen Mumford
Introducing Aidaptus®
Michael Earl, Director, Pharmaceutical Services at Owen Mumford Ltd, introduces the company's next-generation platform disposable auto-injector, Aidaptus®. The pioneer in the development and manufacture of auto-injectors has now launched a platform product offering optimal flexibility and versatility to the pharma industry.
Since auto-injectors came into use in the 1980s, they have become increasingly sophisticated to meet the needs of patients, healthcare professionals and pharmaceutical companies. For pharma businesses, it is critical that the selected auto-injector can be quickly adapted to the drug characteristics and its target user groups, allowing the final combination product to reach market as quickly possible. At the same time, as a platform product, the auto-injector must accommodate the needs of multiple target users and patient demographics, taking into consideration the range of human factors at play when the product is in use.
Platform devices are able to fulfil these criteria and in more recent years have become a favoured solution for the industry. However, these devices must be able to keep up with the speed of innovation in the drug development industry. At Owen Mumford, we are proud to be launching our latest platform auto-injector, offering next-generation benefits of flexibility and versatility, while continuing to prioritise ease of use for the patient.
Achieving flexibility
The timescales from drug development to clinical trials and final regulatory approval have shortened in the pharmaceutical industry in recent years. This means that the selected injection device must ideally be able to accommodate modifications to the drug formulation without impacting the development timelines. These include changes to the drug volume and viscosity which may be made during drug development and through to clinical trials, in order to optimise drug efficacy and dosing frequency. The need to change device design in the later stages of development or in life cycle management is likely to create additional cost and lengthen timelines.
With this challenge in mind, Owen Mumford pharmaceutical services have developed a true platform single-use auto-injector, Aidaptus. Aidaptus is compatible with either a 1mL or 2.25mL prefilled syringe, with a minimal number of change parts, whilst maintaining its small, discreet size (162mm x 18mm). The product also has a novel feature to allow further flexibility: its self-adjusting plunger enables the use of a range of syringe fill volume options without any changes to the device and with no change in parts. An added benefit of the self-adjusting plunger is that it limits the backward movement of the stopper in the syringe barrel during transit from factory to patient, helping to prevent breaches of container closure integrity (CCI). From a drug filling perspective, pharmaceutical businesses have the option to use either vented or vacuum filling, which may also allow a choice of contract filling partners.
Aidaptus comes in two presentations, so that companies have options on how to brand the product, the size of the window, and the time to market. The first presentation is a traditional opaque moulded body, while the second comes with a transparent body and over wrap which can be printed and customised as required. As the market develops, and to aid differentiation, the patient benefits of the product can be further optimised. For instance, innovative new label technology solutions may be added, such as new surface finishes and textures which aid grip and handling. With the industry continuing to explore digitalisation of medical devices, integrated Near Field Communication (NFC) could also be included in the product to enable connectivity options.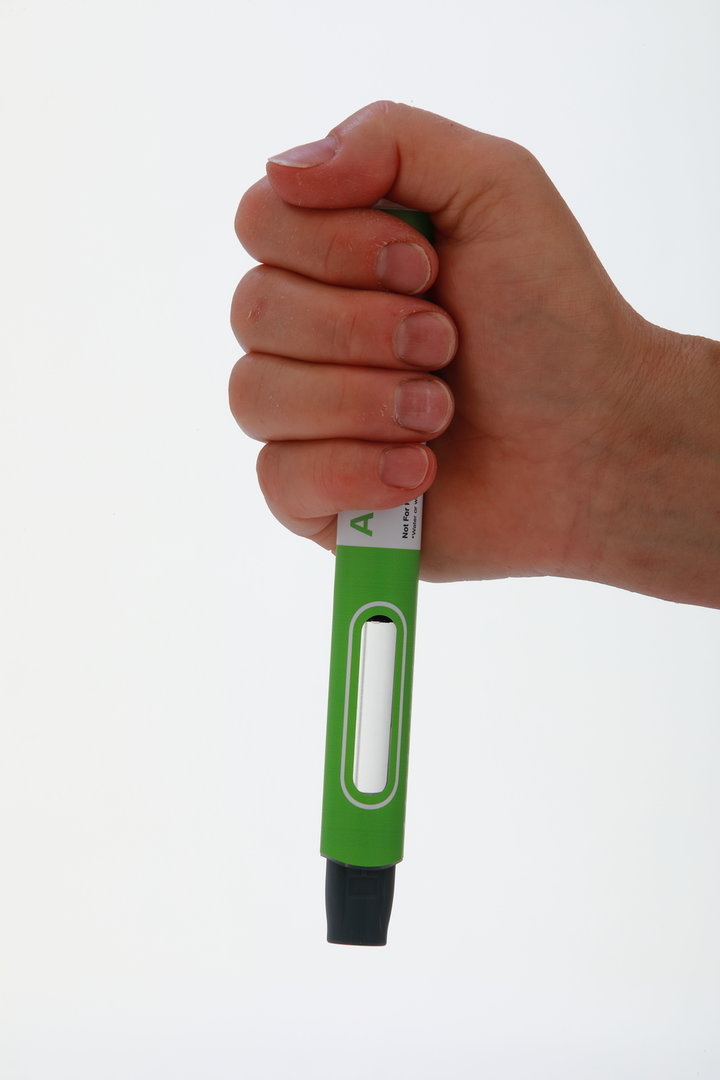 Maintaining ease of use
Platform devices are designed to be used with a variety of formulations and throughout the product lifecycle, thereby aiming to reduce the level of design verification and validation testing that is needed with multiple products. The challenge with such platform devices is that the specific intended user group is not defined during the design phase as the device is applicable to a variety of formulations for subcutaneous delivery. With human factors testing mandatory for drug delivery devices in order to gain regulatory approval, platform products must address the needs of multiple potential patient groups. Testing strategies and risk mitigation must therefore be as inclusive as possible, to cover patients with different levels and types of physical impairments and cognitive abilities, as well as a range of ages. With Aidaptus, we've really taken into account the whole injection experience, as well as the needs of different potential users.
Two-step delivery
An important feature in Aidaptus is the two-step delivery, where needle insertion and dose delivery take place as two separate phases. The drug is only delivered once the needle is fully inserted, activated automatically through pressure on the skin. This means the user experience is consistent for each injection, and it also helps to prevent potential drug spillage prior to the injection. Separating the injection process in this way also helps to prevent syringe breakage. As a single strong spring is typically used to deploy the needle for skin insertion as well as the plunger for dose delivery, this can result in syringe breakage.
Audible and visual notifications
So that users can be confident that they have successfully completed their injection, there are audible clicks at the start and end of dose delivery, as well as a bright yellow plunger rod clearly visible in the viewing window to confirm the end of dose. The window in Aidaptus is large enough for patients to easily see the drug before administration, and enables them to check drug clarity and colour. These notifications, as well as dual-phase delivery, may help to prevent 'wet injections', where patients remove the auto-injector from the injection site too early in the administration process.
Protection from injury
The appearance of needles can cause anxiety for some patients, and so Aidaptus' design ensures that the needle is hidden before, during and after use helping to prevent needle phobia. More importantly, this serves to protect users from needle exposure and injury. Following injection, the safety shroud locks in place to ensure that the needle is not exposed before disposal into a sharps container.
Minimising risk
As drug formulation scientists develop innovative solutions to enhance the patient therapy and experience, such as creating longer-acting formulations with less frequent injections, devices must follow suit. Owen Mumford's Aidaptus auto-injector is designed to minimise risk for pharmaceutical companies, so that they have the freedom to modify and optimise drug volumes and create new formulations, without needing to switch to a different device each time.
For more information about the new OMPS Aidaptus® auto-injector platform, please visit our site