- ECONOMIC IMPACT -
Latest update: 22 November
After months of decline, GDP estimates for many countries have turned positive. Consensus forecast for world GDP growth in 2021 is 6.0%.
V-shaped economic recovery is expected in most G20 nations in 2021 as vaccinations are rolled out across economies coupled with easing of restrictions.
A movement towards decentralised trials with remote patient monitoring and site initiation are the top mitigation strategies for addressing clinical trials disruptions due to Covid-19. At the end of 3Q, 4.22% trials now have a virtual component.
Just under 60% of Americans are fully vaccinated against Covid-19. Among the top ten infected countries, the US had the second highest rate of total confirmed cases in the past month.
Global economy to revive in 2021 due to mass vaccine rollout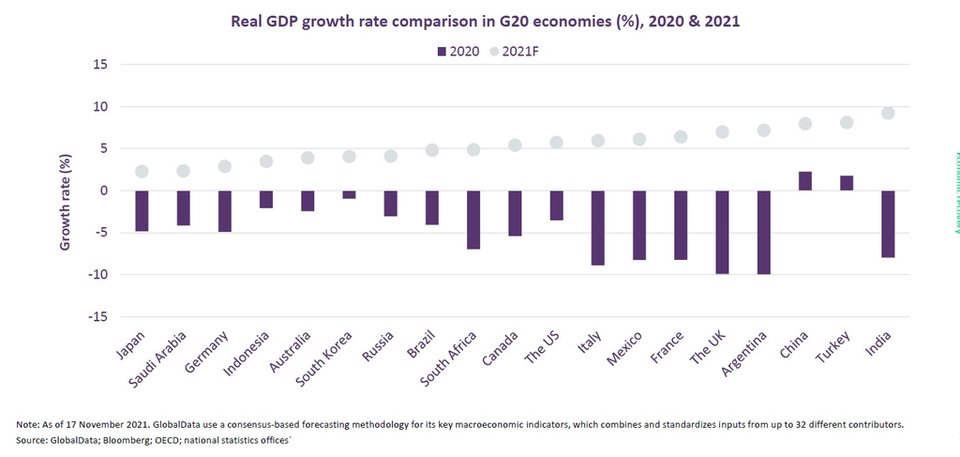 - SECTOR IMPACT: PHARMA -
Latest update: 30 November
Trial disruption continues to level off. While 1,079 clinical trials are still disrupted, this is following a downward trend since mid-2020 has plateaued in the recent months.

Covid-19 has led to an increase in demand for virtual trial experience, with 301 jobs in that domain being posted in the 3Q as per GlobalData's job analytics database.
Digitising clinical trials
The Covid-19 pandemic has triggered digital transformation in the form of an acceleration of technology-related industry trends — for example, increased use of social media and telemedicine.
As these technologies continue to become more sophisticated and both service providers and recipients become accustomed to new norms, these trends are set to continue to grow even after the pandemic subsides.
While healthcare provision has been historically viewed as an in-person experience where the patient is examined by a healthcare professional in order to receive a diagnosis for any health issues, Covid-19 revolutionised the perception of patient care, with telemedicine becoming a standard in the clinical workflow.
Key trends due to Covid-19