COMPANY INSIGHT
Sponsored by PHOENIX group
ENHANCING PATIENT SAFETY IS OUR MISSION
The success of a drug and its benefit to the patient or consumer is determined in the market. Why not use our strong channels towards pharmacies to increase patient awareness and adherence? PHOENIX group is a leading integrated healthcare provider present in 27 European countries. Our 2,500 own pharmacies, one of our 13,500 cooperation partners or one of the 56,000 pharmacies which are supplied with products through the wholesale channel ensure 150,000,000 patient contacts each year.
PHOENIX Patient Care Programs
Helping you to improve patient adherence and outcomes
Pharmaceutical companies face a yearly revenue loss due to patient non-adherence of more than $500 billion per year.
PHOENIX has proven to be able to develop, implement and deliver Patient Care Programs through our large pharmacy network of more than 14,000 owned and cooperative pharmacies that generate increased adherence and better outcomes, thus generating incremental Business. With the launch of Pharmondo, a new app-based patient support program for oncology patients based in Germany, PHOENIX can provide an innovative new service to obtain optimal treatment outcomes, such as cure or improvement in quality of life as well as treatment adherence.
PHOENIX Commercial Partnerships
Providing sales growth on European, regional and local level through proven business services.
Incremental growth opportunities for our partners
Proven business models capturing incremental opportunities
Common progress towards a joint goal – maximising patient outcome
Preferred access to our value-adding All-in-One services, such as Patient Care Programs, Business Intelligence, Representation Services, Supply Chain Optimisation, and many more
Growing sales
Maintaining sales
Slowing down decrease
PHOENIX Representation Services
PHOENIX has a deep market knowledge in 27 countries across Europe and can help you get access to the right market, from initial market research, product registration and product launches.
With our dedicated field force and our strong relationships with stakeholders in the markets, we support you in the regulatory affairs as well as in executing marketing campaigns.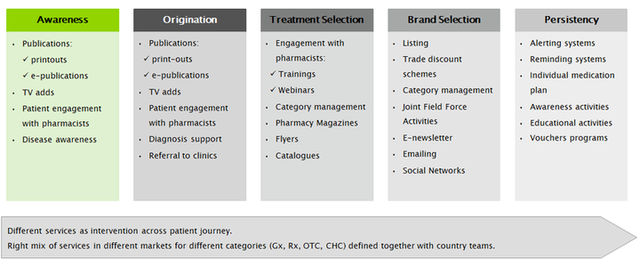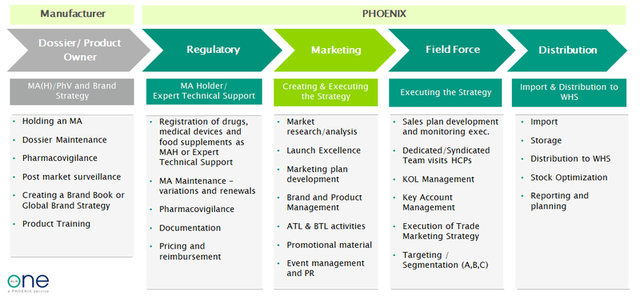 PHOENIX Clinical Trial Supply Services
A highly specialised provider of solutions within clinical trial supply
With more than 30 years of experience, we have the expertise, the best services and the flexibility to help you achieve the optimal clinical trial supply and add knowledge and success to your clinical Trials.
As a full-line wholesaler, we collaborate with most pharmaceutical manufacturers to deliver medicine to the patients and develop new logistics concepts, therefore, we have direct access to all necessary supplements and are the ideal partner to also take care of your comparator sourcing.
Today we are working with clinical trials ranging from small biotech to large pharma sponsored trials and investigator initiated studies.
We create optimal individualised solutions by adjusting and combining our services according to the specific needs of our clients. Our highly flexible solutions range from clinical trial supply planning and optimisation, production of labels, GMP packaging, global distribution and return, and destruction. The aim is to ensure the most effective logistics setup and optimal clinical trial supply management for local and global clinical trials.
Benefit from our high quality solutions with secure, validated, controlled and audit proven processes
Our deep local knowledge and global coverage will add success to your clinical trial
Being specialist in Clinical Trial Logistics, we are your reliable partner with our expertise in cold chain, narcotics and special products
PHOENIX Healthcare Logistics
What is Healthcare Logistics?
Regional Approach/ Cluster: Nordics/ Baltics, Benelux, CEE, Non-EU BMS

Ease of doing business and joint development with one service provider – better results with less administration
Market access and good market knowledge to support your sales
Joint evaluation of supply chain for the best solution for your products
Optimising stock levels for reduced NWC
Assuring high service levels to fulfill sales targets
Ensuring high quality and transparency throughout the chain for increased control

Additional commercial and pharmaceutical services for improving cost efficiency while developing top line growth
Full logistic services in all product groups with over 40 DC's in 23 countries, a capacity for over 300,000 pallets and serving more than 200 manufacturers
PHOENIX Business Intelligence
Providing insights to make better business decisions
PHOENIX Business Intelligence provides manufacturers with real-time real-world data helping to address key business issues like:
Optimisation of product portfolio, positioning and market access
Supply chain management ensuring product availability
Optimisation of promotional resources
Monitoring of product performance in real-time
150,000,000 patient contacts per year
PHOENIX is present in 27 European countries including its 164 distribution centres, 2,500 own pharmacies and 13,500 pharmacy cooperation partners. For the largest markets a harmonised dataset is loaded into one database with daily synchronization, and more and more countries are rolling onto it. Pharmaceutical manufacturers can benefit from this real world and real time database in many ways.