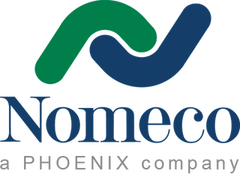 The future in Healthcare Logistics
Highly automated logistics centres with short delivery times are crucial for the supply chain of pharmaceutical and other healthcare products throughout Europe. PHOENIX group is a leading integrated healthcare provider present in 27 European countries. Our international logistics network includes 40 warehouses and several Hubs throughout Europe. With our long-standing presence in the different pharmaceutical markets, we have extensive experience and market knowledge to support manufacturers.
About Nomeco
Nomeco is part of the PHOENIX group, a leading integrated healthcare provider in Europe with international headquarters in Mannheim, Germany. The PHOENIX group is represented in 27 European countries with over 37,000 employees. Nomeco is a specialist in healthcare logistics with the aim of providing citizens with punctual access to medicines and other health products.
As the leading pharmaceutical wholesaler for Danish pharmacies and hospitals, Nomeco is well-known in the Nordic region. Nomeco HealthCare Logistics is the preferred strategic service and logistics partner for the international pharmaceutical industry in the Nordic and Baltic countries.
State of the art warehouse in Køge
In November 2019, Nomeco, the Danish subsidiary of the PHOENIX group, has opened the largest logistics centre for pharmaceuticals and healthcare products in the Nordic countries. After three years of construction, the healthcare logistics warehouse and distribution centre has been completed and impresses with many superlatives: The 25,000 square metre building is the size of three football fields and has a fully automated warehouse. With a height of 30 meters, it offers space for more than 55,000 pallets. Thanks to the high degree of automation, up to 1,000 pallets can be moved per hour. Based on the order history, algorithms determine the best possible storage location for each product to ensure the highest efficiency in the inbound and outbound processes.
Scandinavia's largest pharmaceutical logistics centre
"The central aspects of the construction of our logistics centre were efficiency, quality and security. In an industry where delivery reliability goes hand in hand with patient safety, this is crucial. With the new logistics centre in Køge, we continue to optimise our supply chain and make medicines available to the patients even faster," said Henrik Kaastrup, Managing Director of Nomeco.

Geographically, Denmark and Køge, south of Copenhagen, is the ideal location for short distances to the whole of Northern Europe. In Scandinavia, the PHOENIX group is present with the pharmacy chain Apotek1 in Norway and in Finland, Sweden, and the Baltics with the pharmaceutical wholesaler Tamro. PHOENIX also operates BENU pharmacies in the Baltic States.