Cloud computing's importance has grown significantly in recent years. It has allowed shared IT infrastructure and services to create a flexible, scalable, and on-demand IT environment. The cloud is now the dominant model for delivering and maintaining enterprise IT resources, including hardware, software, and platforms and tools for application developers.
Cloud computing provides users with an approach to consuming IT that is significantly more flexible, resource-efficient, and cost-effective than traditional IT. Cloud-based IT resources can be delivered privately, for use by one or a specific group of enterprises, or publicly, where IT resources are accessed according to multi-tenancy principles. Hybrid cloud environments, which combine the use of both public and private cloud, are increasingly popular among enterprises that want to enjoy the benefits of both.
The widespread move to home-working necessitated by Covid-19 would have brought businesses to a grinding halt had investments in cloud not been made over the last ten years. That investment now has the potential to transform the way some businesses operate.
What is cloud computing?
Cloud computing refers to the provision of IT infrastructure and platform services to provide a flexible, scalable, and on-demand IT environment. At the simplest level of abstraction, it may refer only to IT infrastructure, such as a remotely hosted server (or bare metal), while at the furthest level of abstraction, it refers to a remotely hosted software application together with all the computing elements required to provide that software, such as a data centre, networking equipment, servers, storage, operating software, and security software. In the last decade and a half, the cloud computing stack has been replacing the traditional IT stack.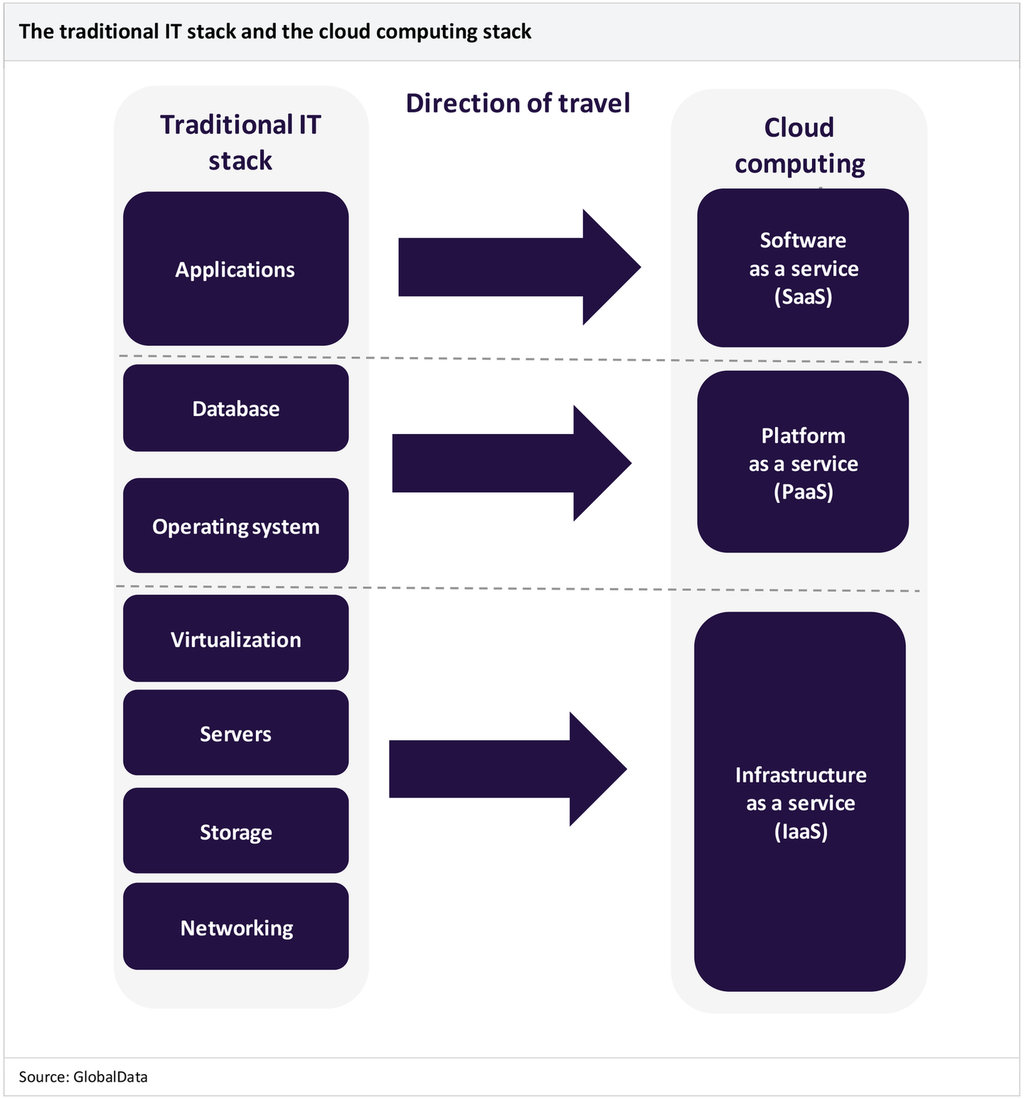 Cloud computing is typically sold using the following service models:
▪ IaaS: A model for delivering computing and storage capacity in which the consumer taps into resources that are typically hosted in a third-party facility and are charged for the volume used.
▪ PaaS: A model for providing platform services that allow application developers to create, run, and manage applications without the complexity of building and maintaining the infrastructure typically associated with developing and launching an app.
▪ SaaS: A subscription-based delivery mechanism for software in which the application is hosted by a third-party supplier, typically in a multi-tenant architecture, and delivered to end-users via the cloud.
Business benefits of cloud computing
The cloud represents a more agile approach to operating an IT architecture, particularly in support of modernising enterprise applications.
The main promised benefits are:
▪ Flexibility: Businesses can access IT equipment, applications, processing, and storage capacity as needed, rather than buying hardware and software assets upfront. Organisations can gain faster access to the latest application updates and other enhancements through this model.
▪ Cost: Cloud can deliver significant cost savings across a company's IT budget.
▪ Cash flow: Billing is typically metered on a usage or subscription basis, so IT expenditure shifts from one-off, upfront capital expenditure to monthly operating expenses, offering a cash flow advantage.
▪ Scalability: Computing capabilities like storage, processing power, or network bandwidth can be scaled up almost instantly and scaled down again depending on demand, and users are unlikely to ever be short of capacity.
▪ Ubiquitous access: IT resources can be accessed by any authorised users on any authorised device from any authorised location using an internet connection.
How do we define the cloud value chain?
Enterprise cloud spending falls into three broad categories. The first of these, cloud infrastructure, includes the hardware and software used to build, operate, and manage a cloud environment, whether it is public, private, or hybrid. Enterprises invest in infrastructure for building and operating a private cloud for various reasons, including data compliance obligations, data privacy, and maintaining guaranteed performance levels. Some enterprises build their own private cloud, while others invest in a turnkey private cloud solution.
A distinction can be made between the location of the cloud infrastructure and who manages and maintains it. In the case of an on-premises private cloud, the hardware and software are deployed and maintained behind the enterprise firewall. The private cloud environment can then be managed and maintained by the enterprise end user, an IT vendor, or a service provider. Alternatively, enterprises can opt for a hosted private cloud—one where the hardware and software reside within the data centre of an IT vendor or service provider. Hosted private clouds can be managed by the enterprise or by the vendor or service provider.
Public cloud providers like AWS, Microsoft, Google, and Alibaba are also important investors in cloud infrastructure, which they use to build and operate the public cloud service environments on which their businesses are based.
Cloud management platforms comprise another important cloud infrastructure category attracting growing investment from enterprises. Cloud management platforms include solutions for monitoring and managing cloud spending, providing insights into cloud service usage, and enforcing security and compliance.
The second broad category of enterprise cloud spending is that of cloud services. Cloud services include infrastructure-as-a-service (IaaS) offerings for IT resources such as compute, storage, and backup and disaster recovery; platform-as-a-service (PaaS) offerings, which allow application developers to create, run, and manage applications without the complexity of building and maintaining their application development environments; and software-as-a-service (SaaS) offerings, which allow IT software to be purchased and consumed on a subscription basis.
The third broad category of enterprise cloud spending is cloud professional services. These services support the procurement, deployment, and ongoing management of diverse cloud-based resources. Cloud professional services include cloud brokerage, cloud integration and advisory services, and managed cloud services that include managed databases, managed middleware, managed cloud security, and managed business applications.
GlobalData's cloud value chain
Who are the leading players across the cloud value chain?
GlobalData's ecosystem map identifies the leading and disruptive companies across the dloud value chain: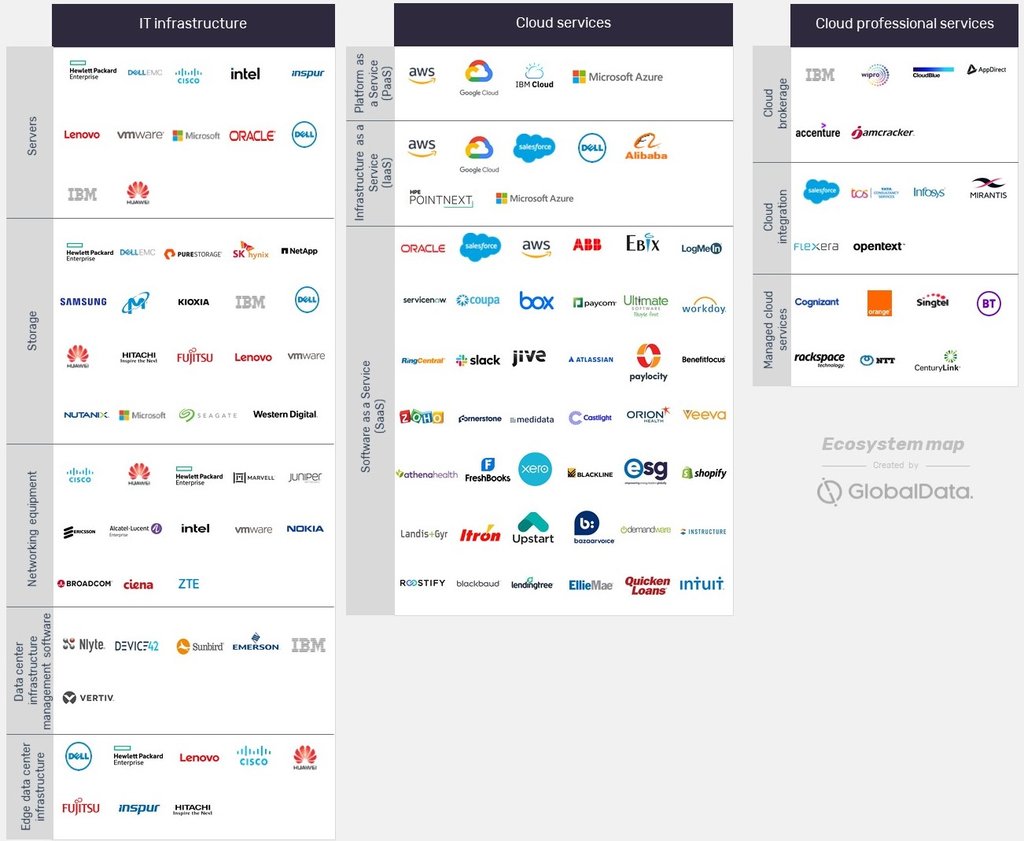 Source: GlobalData Thematic Intelligence
What is the size of the cloud market?
According to GlobalData forecasts, total global spending by enterprises on IaaS, PaaS, and SaaS in 2021 amounted to $340.4bn. Furthermore, global enterprise spending on cloud services will reach $398.1bn by the end of 2022, up by 17% year-on-year, and $738bn by the end of 2026, having grown at a compound annual growth rate (CAGR) of 16.7% between 2021 and 2026.
As shown in the chart below, SaaS represents the largest portion of global cloud services revenue and will maintain this dominance over the coming years. GlobalData expects the SaaS market to expand at a CAGR of 17% between 2021 and 2026, faster than both the PaaS and IaaS markets, which will record CAGRs of 16.7% and 16%, respectively, over the same period.
GlobalData, the leading provider of industry intelligence, provided the underlying data, research, and analysis used to produce this article.
GlobalData's Thematic Intelligence uses proprietary data, research, and analysis to provide a forward-looking perspective on the key themes that will shape the future of the world's largest industries and the organisations within them.