COMPANY INSIGHT
Sponsored by Datwyler
INNOVATIONS IN ELASTOMER MANUFACTURING TO MEET THE CHALLENGES OF PRIMARY PACKAGING FOR PARENTERAL DRUGS
With the advent of biologics and highly sensitive drugs, primary packaging materials must meet the highest level of functional, regulatory, and cleanliness standards to ensure compatibility and, ultimately, patient safety. Datwyler's solution to these ever-stricter requirements is their highest-quality manufacturing standard, FirstLine™.
Dhe manufacturing concept of FirstLine™ adopts a Quality-by-Design (QbD) approach that begins with a fundamental question – If the common denominator is defined by the primary packaging material, shouldn't the primary packaging manufacturing environment be an extension of the drug manufacturing environment?
Before FirstLine's commercialization in 2009, Datwyler collaborated with pharmaceutical and biotech clients to understand the needs of the market. The information was distilled into three macro trends: (1) development of complex and sensitive drugs and challenges to package and deliver these drugs in an efficacious manner, (2) more stringent expectations of the regulatory authorities, and (3) globalization and supply chain optimization to meet the requirements of pharmaceutical companies.
To address the unmet market needs for the highest quality components, it was important to redefine the manufacturing concept that was determined by Datwyler and challenged by industry experts. A decade later, we can say with confidence that the FirstLine™ concept is the new standard for the manufacturing of parenteral packaging components.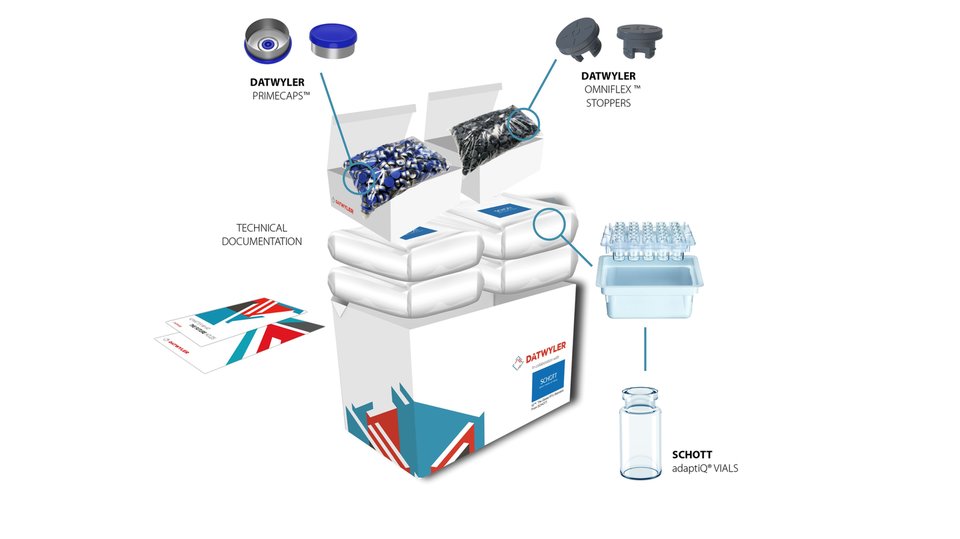 PACKAGING CHALLENGES FOR COMPLEX AND SENSITIVE DRUGS
It is important to consider the requirements for the drug product first and then extend it into the parenteral packaging manufacturing environment. Highly sensitive drugs require modern elastomer compounds with the cleanest extractable and leachable (E/L) profile. To meet these product challenges, Datwyler has developed best-in-class rubber compounds, such as FM457, which is widely recognized as the cleanest elastomer in the parenteral packaging space from an E/L standpoint.
Silicone is needed for machinability, functionality, and transportation of elastomeric products. Silicone also has a tendency to migrate into drug formulations. To mitigate risks against silicone sensitivity, Datwyler has developed a proprietary fluoropolymer spray coating that eliminates the need for siliconization. The fluoropolymer spray coating has been commercially successful with several drugs on the market that benefit from this technology.
The FirstLine™ manufacturing concept starts with a 'zero defect philosophy' in mind. To achieve this, the smart facility design regulates personnel, material flow, and waste flow. The critical processes are automated to eliminate or minimize operator contact. Here, statistical process controls with continuous monitoring of products aim to minimize defects. Automation enables the entire production floor to be paperless, and this is essential since cellulose is the largest contaminant in parenteral drugs. Finally, continuous improvement efforts are defined by process FMEAs and "poke-yoke" principles so as to build quality into the process. As a second line of defense, components can be vision inspected at a per-piece level for cosmetic and dimensional defects.

MORE STRINGENT EXPECTATIONS OF THE REGULATORY AUTHORITIES
Data suggests that authorities' expectations are becoming more stringent, pushing our industry to reach higher quality levels. It can be agreed that these trends on stricter expectations from the pharmaceutical companies as mandated by the regulatory bodies are here to stay, and will only get stricter. It is only a matter of time that this will be the "new normal" within the industry. To meet these challenges, Datwyler pioneered the FirstLine™ manufacturing concept much ahead of its time. Strict specifications for particulate levels and continuous improvement efforts are in place to strive towards our goal of zero defects. This QbD approach is at the center of the FirstLine™ concept.
Datwyler's 'Zero Defect' Philosophy is what makes FirstLineTM the best-in-class manufacturing standard.
NAVIGATING A GLOBAL SUPPLY CHAIN AMID COVID-19
While the pharmaceutical industry focuses on finding a treatment to combat the COVID-19 pandemic, Datwyler is working hard to deliver the necessary volumes for a widely and urgently needed vaccine. Although manufacturers can encounter hurdles in scaling up to manufacture a vaccine in the best of circumstances, today's concerns of packaging shortages leave no time or resource to waste on the issues that stem from defective or problematic drug packaging.
Datwyler has taken several steps to ensure the necessary capacity to provide high-performance fluoropolymer coated components to meet demand from customers pushing vaccine production into overdrive—and juggling output of other critical injectable drugs. For industry leaders developing COVID-19 vaccine candidates, Datwyler's FirstLine™ facility in Middletown, Delaware provides critical infrastructure to help support the increased demand around COVID-19. This risk mitigation strategy enables business continuity and supply chain management, which is a key consideration in today's pharmaceutical manufacturing landscape, even under normal circumstances.
Patients depend on drug manufacturers to supply them with products that provide essential—sometimes, even life-saving treatments. By scaling up this facility faster and ramping up production with a 24/7 schedule worldwide, Datwyler has increased capacity for coated components by almost 50 percent over the last two years and have more investments to optimize the use of production facilities in the pipeline. These measures not only ensure Datwyler's readiness for COVID-19, but also enables continued production of sealing solutions for injectable drug packaging used in other medicines.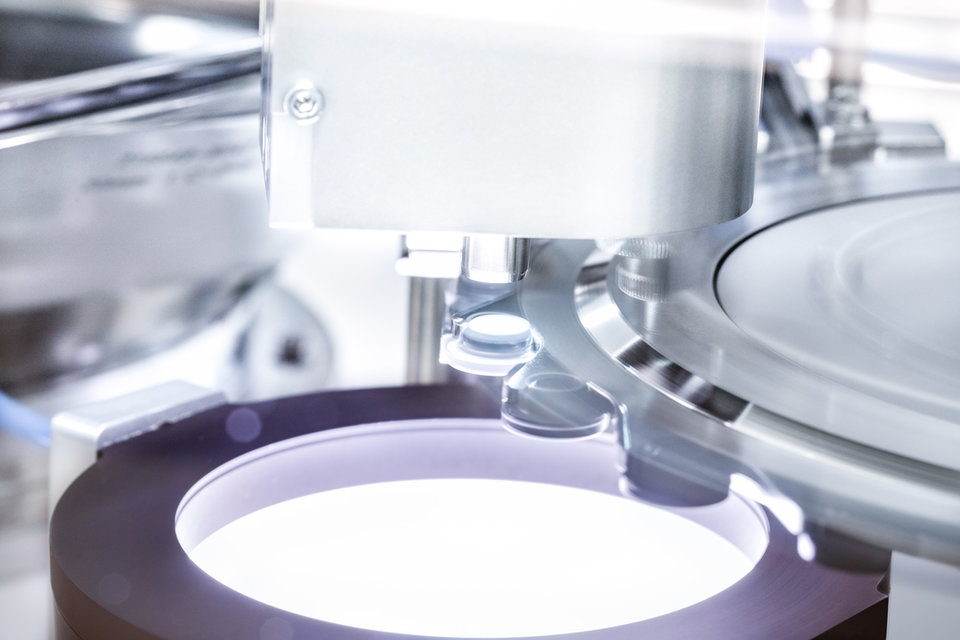 The FirstLineTM concept includes high-level camera inspection to detect and remove defects before Datwyler's products are packed and shipped to its customers.