Synex Synthetics BV
Trusted tailor-made research every step of the way
At Synex Synthetics, we are dedicated to bringing our customers the very best in custom synthesis, analysis and rare chemical sourcing. Offering a wide range of contract research and development services, we aim to provide our customers with unparalleled support and excellent value for money.
As a privately-owned custom research organisation, we adopt a personalised approach, ideal for all proposals from small, low-budget projects to larger scale process development.
As well as enforcing a strict confidentiality policy, we guarantee that any IP generated in the course of a research project is granted exclusively to the client.
With newly built, ultramodern facilities in Maastricht, The Netherlands, Synex Synthetics is truly at the heart of European chemistry.
Synex Synthetics also specialises in sourcing rare and hard-to-find chemicals, from research to commercial scale.
With competitive pricing and our global network of suppliers and collaborators, we can always provide our customers with an appropriate solution to their needs.
With years of combined expertise and contacts with academic institutions and other partner organisations, our experienced team can access specialist knowledge and information quickly and efficiently.
Our cost-efficient analytical services include purity screening, structure identification and structure elucidation.
With our state-of-the-art analytical equipment, our experienced, impartial chemists can also perform complex separations and isolations, using an advanced automated flash chromatography system.
Synex Synthetics' analytical laboratory includes the following equipment:
Thermo Scientific Dionex UltiMate 3000 UHPLC
Thermo Scientific TSQ Access LC/MS/MS
Agilent Technologies 5975C Inert MSD GC/MS
NMR (various models from 300 to 600 MHz)
Bruker FTIR
Buchi Reveleris® X2 Preparative Flash Chromatography System
Stuart melting-point apparatus
Polarimeter
In addition to our analytical support, all products supplied by us are subjected to our meticulous QC procedure before shipment and issued with a certificate of analysis.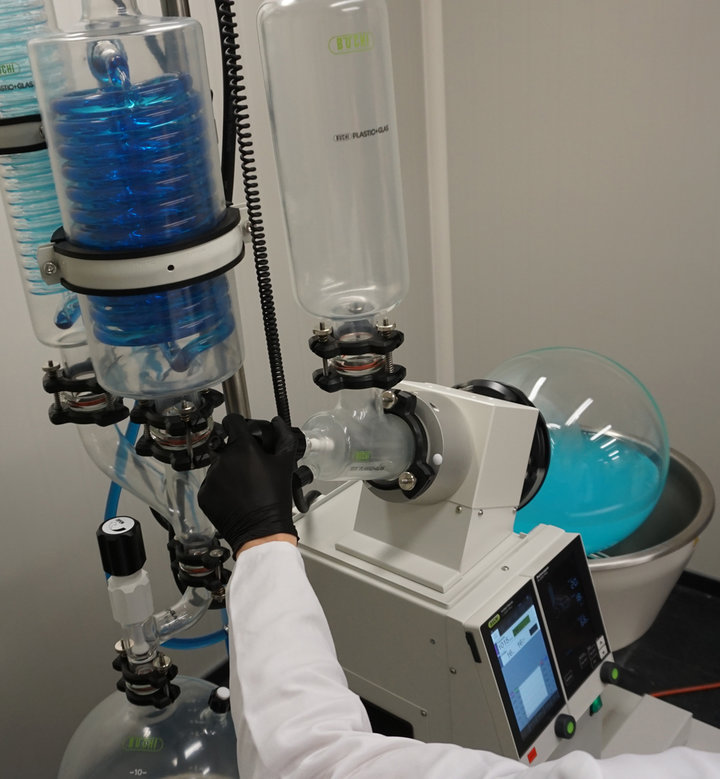 Synex Synthetics' state-of-the-art laboratory opened in 2017, after an extensive redesign of our premises.
Our in-house facilities consist of four modern laboratories, including an analytical laboratory, kilolab and two R&D laboratories.
As well as our analytical equipment, Synex Synthetics' laboratory has the capacity to deal with a wide range of chemical reactions, with equipment including:
Radleys Carousel 6 Plus Reaction Station
Various vacuum-jacketed reactors from 250ml to 20L with Huber thermostats (-80°C to +200°C)
Buchi R-220 Pro 20L rotary evaporator and multiple bench-top units
Microwave and photochemical reactor
High-capacity vacuum-filtration system
Ultra-low vacuum pumps and vacuum oven