Pharma Playbook: an inside look at Signals Analytics vast therapeutic database
Signals Analytics has created a Pharma Playbook, which collects, connects and visualises all external data related to an enormous number of targets and therapeutic areas, including 1,600 rare diseases. Allie Nawrat finds out more.
S
ignals Analytics was born when two ex-Israeli military intelligence officers, Gil Sadeh and Kobi Gershoni, realised the same tools and technologies used to enable covert operations could be applied to the business world.
Fast forward ten years, Signals has created a next-generation advanced analytics platform, which serves various consumers industries - however, pharma is its biggest revenue maker.
To better support its pharma clients, Signals "changed its mind-set" last year and created a specific off-the-shelf Pharma Playbook for its medical clients.
Vice-president of healthcare solutions Shlomi Madar says the playbook "harmonises data scraped from multiple [disparate, unstructured] data sources and unifies them in one taxonomy"; the main data sets focused on are research papers, patents, grants and clinical trials.
"Unifying all these different data sources of data that speak different languages is a big challenge," Madar explains.
"We have a large research and development (R&D) and data scientist department that tackle this particular challenge".
The main aim of the playbook is to help pharma clients with drug development, repurposing and partnering by providing them with a comprehensive view of the landscape for a particular target or a therapeutic area. This helps them to prioritise their R&D pipeline, as well as identify early innovation and promising partners.
Co-founder and CEO Gil Sadeh says "Our platform cuts through the noise and extracts the relevant information that a drug manufacturer or biotech firm needs to place the right bets."
Dedication to rare diseases
In line with Signals' commitment to keep its platforms up to date with fresh data, the company noticed that rare disease is one of the growing trends in the pharma industry – Madar notes "we have seen a lot of interest from investors, big pharma and biotech" – and therefore decided to add 1,600 rare diseases into the medical conditions covered in the playbook.
Rare disease-related data is particularly hard to capture configure as "there is a lot of noise". However, the market opportunities and the contribution Signals' platform could have on uncovering new areas for potential makes the effort worth it.
pick your target
Madar applies the rare disease filter to show only targets trending across those 1,600 conditions. All the targets are organised based on two by two analysis of their strength and maturity score; this dashboard is known as the target scorecard.
The maturity score comes each research paper and clinical trial being given its own score regarding the quality of the evidence it contains, while the strength score is predictive and relative based around all the evidence in the system, Madar explains.
Out of all the data a target called CD47 is drawn out as it scores well in both strength and maturity, meaning it has some advanced stage R&D and the scientific evidence underlying clinical trials and research papers is strong. However, CD47's competition score is average, meaning that the target is not too mature in R&D pipelines, that the space has become too crowded.
Madar notes that these scores fit with Signals previous findings, stating "our clients kept asking us about CD47 and how promising it is," however, the target is yet to see a big approval, meaning room remains for new companies interested in entering the space.
populate the playbook and watch the ecosystem emerge
Once CD47 has been selected as the target to perform an opportunity assessment, it populates the rest of the playbook dashboard. This allows the pharma client to see all the ecosystem trends for this target across all the rare disease therapeutic areas.
The right-hand graph shows trends over the past five years for CD47 in the rare disease space; each spike represents industry interest in the target and the grey line is the industry average.
Although there has been a reduction in business events – as is clear from the bottom section of the dashboard – CD47 is trending significantly in papers, and the overall trend in patents is up. Madar notes that the slower trend in clinical trials is expected since they normally take longer than writing research papers or filing patents. Madar argues this trend-based graphical approach enables clients to capture innovation at an earlier stage than other drug discovery or development methods.
match the target to medical condition with machine learning
Machine learning uses the connected external data plugged into the system to identify associations between the target and various rare medical conditions, therefore helping to focus future R&D work.
Madar explains the associated medical conditions' function of the playbook "can [also] help clients with drug repurposing if they already have assets focusing on this target" in certain therapeutic areas.
CD47 is often viewed within the oncology field. Madar explains this target is viewed as a possible successor to the success of immuno-oncology encapsulated by the poster child target of programmed cell death-1, which drives Merck's blockbuster cancer drug Keytruda's efficacy in 14 cancer types. Acute myeloid lymphoma (AML) stands out as a trending rare cancer indication for CD47.
However, Signals' platform shows that CD47 is also related to some surprising non-oncology rare indications. Madar picks out sickle cell disease and pulmonary hypertension as particularly interesting examples. Although these conditions have less data points connecting them than unspecific Parkinson's disease for instance, the associated strength score was higher, which is why the bars are coloured green not grey.
find the technology to match the target
As well as helping pharma companies to identify therapeutic areas, Signals' rare disease playbook can also help them to identify which modalities, which are the "different technologies associated with the target" are trending for the target.
CD47, unsurprisingly, has the strongest associated with immunotherapies and immune checkpoint modulators. However, there is also promise in fusion proteins and stem cell therapies.
Stem cell therapy's potential is less clear across all rare diseases, but its success becomes more obvious when CD47 is specifically connected with AML on Signals' modality scorecard. This is because of Signals' analysis of the quality of data underlying the modality, its therapeutic potential and the competitiveness of the space. Analysis also shows that there has been a steady increase in the number of research papers and clinical trials linking CD47 and AML.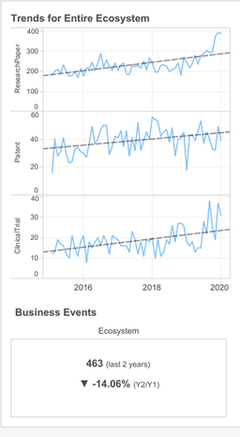 find your perfect university or biotech research partner
The final portion of the playbook is being able to see who is already working behind the scene on the target.
Madar notes "there is a good mix of big pharma, biotech and leading universities" working on CD47 as a target. He sees this as healthy for a trending target since "there is a lot of basic research going on, as well as some translation into companies, and you are definitely seeing more interest coming from big pharma," particularly Roche.
This data can be used by Signals' customers to form partnership, licensing agreements and acquisitions, as well as help them to see who their main competition would be.
In fact, simultaneous to this CD47 demo, Forty Seven, one of the biotechs listed, was acquired by US pharma giant Gilead for $4.9bn. Among other cancers, Forty Seven's lead immunotherapy candidate magrolimab is being investigated for AML; it has received orphan drug designation from the FDA and the EMA for this indication. This acquisition demonstrates the undeniable, genuine promise of CD47 as a target.