- ECONOMIC IMPACT -
Many economists have cut their GDP forecasts. The 2020 consensus forecast for GDP growth is currently negative and many predict a recession.
Unemployment rates are expected to rise in all major economies. The International Labour Organization estimates 6.7% of worldwide working hours will be wiped out in Q2 2020.
IMF forecasts the global economy to contract by 3% in 2020 as the 'Great Lockdown' will cause a dramatic drop in economic activity.
Expected reduction in investments in the commodity-rich exporting nations, according to UNCTAD.
Impact of Covid-19 on asset prices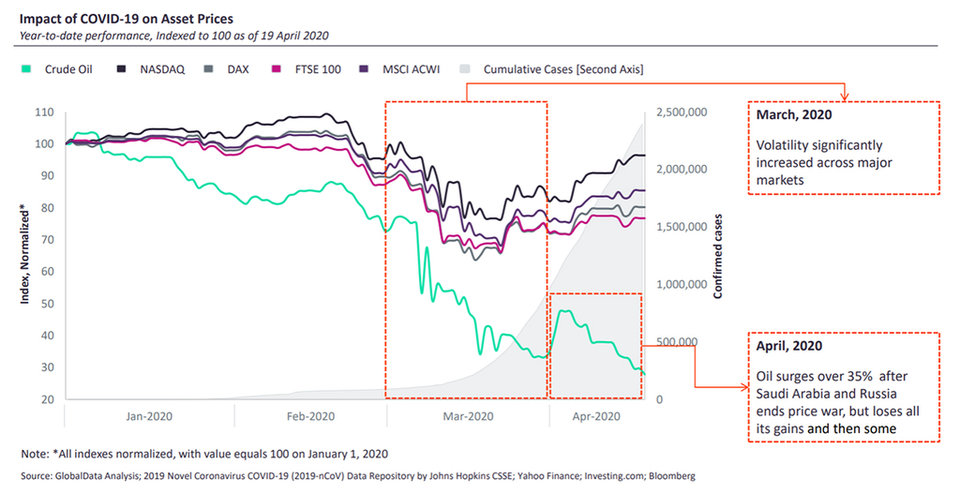 - SECTOR IMPACT: MEDICAL -
Clinical trial market impact
The overall number of clinical trials that have been disrupted due to the COVID-19 pandemic.
In a recent GlobalData poll, about 75% and 80% of respondents expressed some level of concern about clinical trial or regulatory delays respectively due to the coronavirus outbreak.
Financing deals may see delays or decline
Biotech companies could face financial constraints and have to lay off employees if clinical trials are delayed and/or cash burn is high. Licensing deal valuations may drop and there could be an increase in distressed assets/companies.
Key mediCal market developments