COMPANY INSIGHT
Sponsored by Datwyler
A SINGLE SOURCE SOLUTION FOR DRUG DISCOVERY THROUGH DRUG DELIVERY
From the discovery phase through commercial launch, choosing the right packaging solution could be the determining factor in the success of the drug development process. With Datwyler's StarterPack™, its customers are provided reliable support, from drug discovery through drug delivery.
With the increasing complexity and stricter requirements on drug development in the healthcare industry, market leaders need to find advanced and innovative ways to keep pace with these changes. To assist with the challenges being faced in the industry, Datwyler introduces the StarterPack™, which offers comprehensive packaging solutions to ensure drug efficacy, stability, and, ultimately, patient safety. Featuring SCHOTT adaptiQ® vials and Datwyler's OmniFlex™ stoppers and PrimeCaps™, the StarterPack™ offers its customers sealing solutions for every stage of drug development.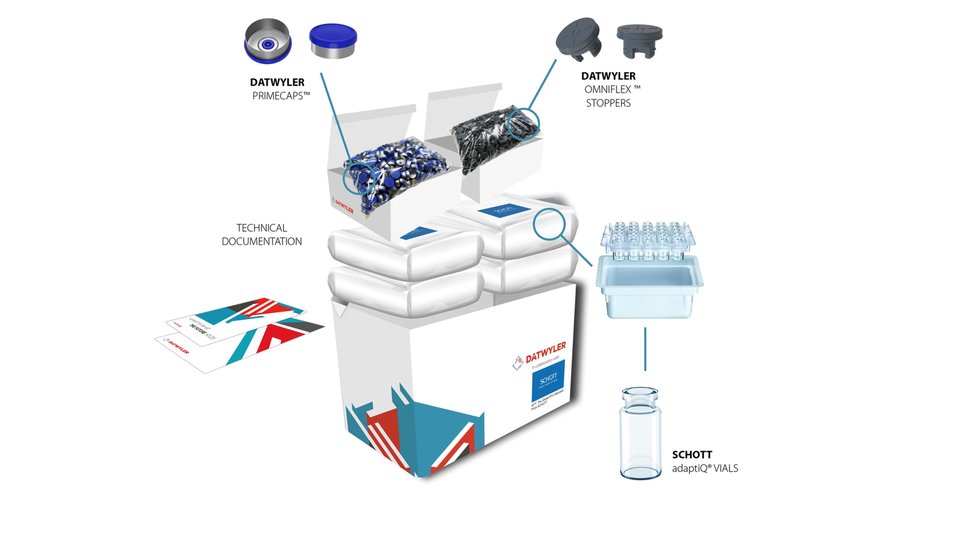 A single source solution: superior packaging components and a full service offering
All products provided in the StarterPack™ are ready-to-use (RTU) and have been sterilized in accordance with pharmaceutical and regulatory guidelines. OmniFlex™ stoppers are coated with a proprietary fluoropolymer spray coating that meets the highest demands for highly sensitive, large molecule drugs. PrimeCaps™ are Datwyler's aluminum sealing solution for flawless machineability on high-speed filling lines. The SCHOTT adaptiQ® vials can be processed on a wide range of new and existing fill & finish equipment. During the entire filling and finishing process, including lyophilization, the vials remain nested and thus protected. Additionally, all of Datwyler's vial closure solutions are produced, controlled, and tested under the most stringent conditions in order to guarantee patient safety. These intensive quality measures are taken to align with Datwyler's mission to improve patients' lives by constantly striving for zero defects in all its products.
Datwyler's StarterPack™ offers the flexibility to choose between 2R and 10R vials, serum or lyophilization stoppers and the corresponding PrimeCaps™. Furthermore, it includes all the technical and quality documentation to support regulatory filing. As the StarterPack™ is available and in-stock, Datwyler enables its customers to accelerate their research and development.

OmniFlex™ stoppers for enhanced compatibility results
Datwyler's StarterPack™ includes FM457 stoppers coated with their proprietary fluoropolymer spray coating. FM457 is a Bromobutyl-based formulation with a very high chemical purity that reduces the amount of potential extractables and leachables considerably.
The fluoropolymer coating provides full coverage of the entire product and eliminates the need for siliconization. It forms a strong barrier between the elastomer component and the drug, thus ensuring a superior protection against extractables. The absence of silicone reduces the amount of sub-visible particles, further minimizing the possibility for potential interactions.
Fluoropolymer spray coated components are exclusively manufactured in facilities incorporating Datwyler's FirstLine™ standard. FirstLine™ is specially designed to produce pharmaceutical rubber components for high-end pharmaceutical and biotech markets in a fully integrated cleanroom environment conforming to the highest industry standards. The FirstLine™ manufacturing concept is based on ultra-modern cleanroom technology, automated production cells, fully automated camera inspection, and a unique validated washing process. All facilities aligned with the FirstLine™ manufacturing standard are specially designed and operated under a zero-defect philosophy.
PrimeCaps™ for guaranteed Container Closure Integrity and flawless upscaling
Datwyler's PrimeCaps™ are produced, controlled, and tested under the industry's most stringent conditions. Therefore, the aluminum-plastic sealing solutions guarantee the highest degree of quality and reliability. Datwyler's seals are manufactured using best-in-class alloy and plastic polymers to ensure the cleanest and safest solutions to its customers.
With Datwyler's PrimeCaps™, customers benefit from additional and specific quality features such as a gate vestige point at the inside center of the polypropylene disc to avoid any protruding material at the disc edge. An additional quality feature is Datwyler's proprietary Accurim technology that provides aluminum seals with a perfect straight skirt edge. At a later stage, these features will support the upscaling process, as PrimeCaps™ are capable of running on high-speed crimping lines without excessive intervention or manipulation.
Highest sterility through ready-to-use configurations
All components of Datwyler's StarterPack™ are supplied in a sterile ready-to-use format and have been sterilized in accordance with pharmaceutical and regulatory guidelines. This enables Datwlyer's customers to directly use the different components without further manipulation or pre-treatment. Sterilization is performed using gamma irradiation technology in conformance with pharmaceutical standards. Datwyler's primary packaging components arrive in tamper-proof packaging to ensure the sterility of the components. Both a CoA and a certificate of irradiation are enclosed with the materials.
Assuring an excellent and robust container closure system
Datwyler's StarterPack™ is designed to provide its customers with products that guarantee complete Container Closure Integrity (CCI). The combination of the Datwyler OmniFlex™ stopper, PrimeCap™, and SCHOTT glass vial, offers an ideal sealing compatibility, preventing leaks and other seal integrity concerns throughout manufacturing and handling. Using standard CCI testing methods required by pharmaceutical and regulatory authorities, all available StarterPack™ component combinations are thoroughly tested for their performance.