Did you know?
DJA has teamed up with companies from around the world to bring superior technology and machinery to the U.S. Pharmaceutical, Food, Chemical and Cosmetic Industry; providing them with the capability to design a factory and provide all the machinery necessary.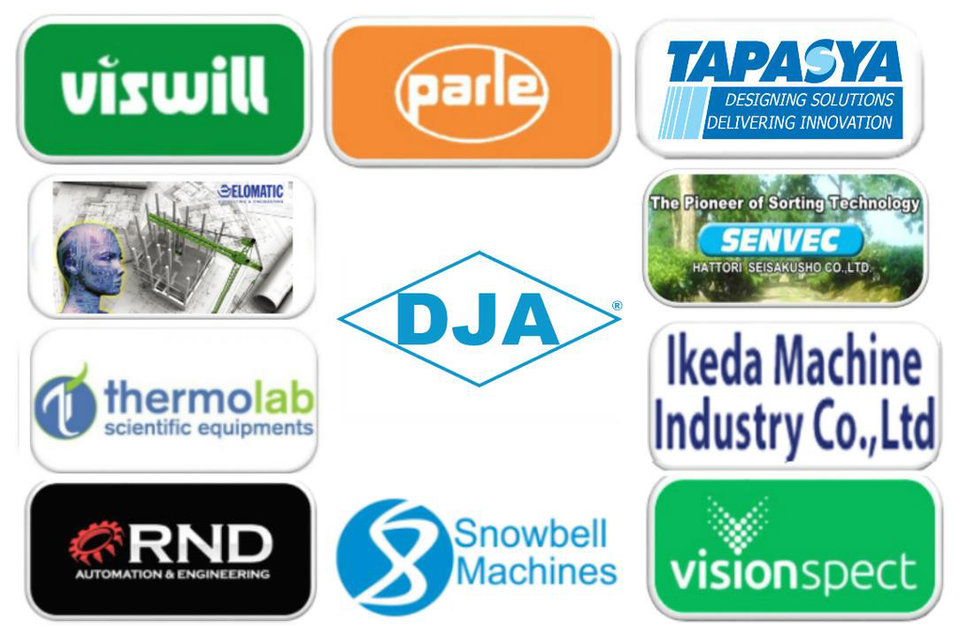 Looking for something, what do you need?
DJA is ready to help you with all your needs.
Visit us
Interphex 2018 in New York, Booth #2827 to learn more on how we can help you.
Get to Know These Companies!
Viswill. tablet and capsule visual inspection. Using cutting edge technology to consistently inspect your product for defects before it leaves the factory guaranteeing the quality of your product. Learn more about these Tablet and Capsule Visual Inspection Systems and how they can benefit you.

Parle. pharmaceutical packaging, tablet and capsule printing, and tube filling and sealing.
Tapasya. Machinery for Pharmaceutical, Nutraceutical, Food, Chemical and Cosmetics Industry. From Granulation to cleaning equipment
Senvec Hattori Machines for inspecting powders, seeds, tea, coffee, grapes, rice, and many more.
Elomatic, Engineering & consulting company dedicated to the pharmaceutical & biotech industry. From Concept design to implementation of facilities for the Pharmaceutical & Biotech sector
Thermolab produces a variety of stability chambers, cooling cabinets, incubators and ovens.
Visionspect. The World Leader in Contract Tablet Visual Inspection. Our contract visual inspection offers all the advantages of automated visual inspection without the capital outlay or employee overhead.
Snowbell machines Manufactures and supports the Sterile filling lines which consist of Ampoules, vials powder, vials liquid, and PFS. Snowbell designs and builds equipment that handles numerous sterile filling and packing processes with sterile isolators and containment isolators wherever needed.
RND Automation & Engineering introduces the Kanga Poucher; a vertical form/fill/seal pouching system that forms four-sided pouches for the medical device, pharmaceutical, durable goods and other industries.
Ikeda Machine Industry Co., LTD. Machines for manufacturing medical products. From Medical Tape Manufacturing such as bandages, patches, and transdermal medicines to Powder Filling Machines