Your Partner for Force and Torque Testing Equipment
Mecmesin, established in 1977, is a leading designer and manufacturer of tensile testers and torque measuring equipment. We offer a full range of precision test systems and instruments that are accurate, reliable and excellent value for money.
Operating under ISO 9001 quality standards, Mecmesin test solutions are used to guarantee the quality of components, materials and finished products, from factory floor through to the R&D laboratory – across all industries in the pharmaceuticals sector.
Backed up by IQ, OQ and PQ document templates to support you in your process validation activities.
Our products enable you to perform checks to ensure:
Conformance to standards
Optimised design
Efficient production
Minimum wastage
Cost savings
Quality
Find out more about our test applications in:
Medical devices and components
Pharma products and raw materials
Packaging systems; CRCs and sterile
Dedicated test systems for specific industries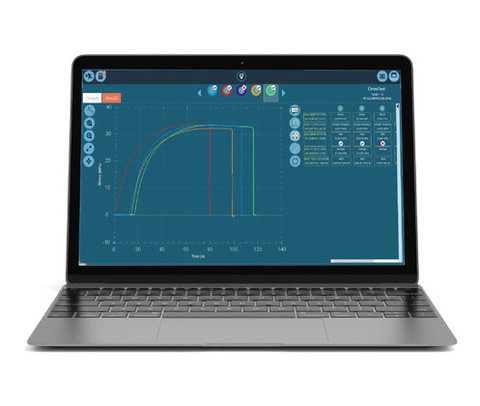 Our software shows clear results of your test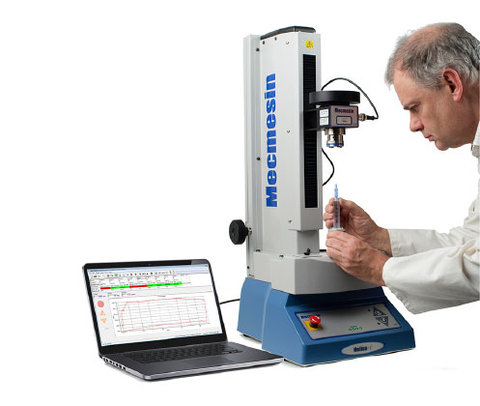 Precision equipment for delicate products
Materials testing with intuitive software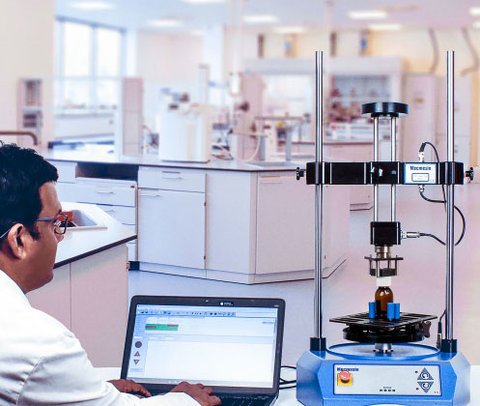 Torque testing solutions for the pharma lab
Medical devices and components testing
Quality and reliability is key in a highly regulated environment, where patient safety is critical.
Assembly, removal, operational and disassembly efforts can all be measured to protect and enhance brand reputation:
Luer design taper connector torque
Syringe glide forces
Biopsy injector trigger force
Tubing pull-out resistance
Needle strength, lancet retention
Elastomeric closure puncture
Dispensing mechanisms built into closures or actuation components in dosage devices can be evaluated for security and ease-of-use:
Pump and spray compression force
Drug delivery dial precision torque
Mecmesin equipment securely clamps these types of components for repeatable testing and our range of loadcells accurately measure the wide range of loads involved.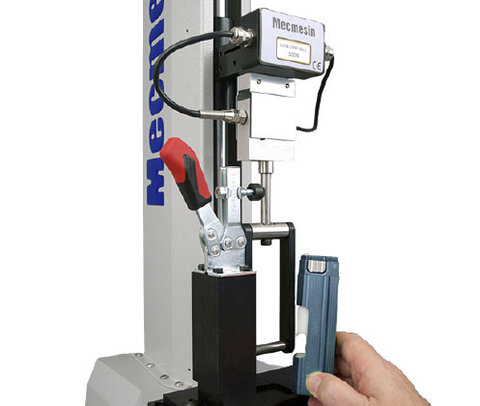 Biopsy injector trigger force test
Pull-out testing on connector designs
Syringe glide force testing
Rotational effort for dosage pen
Luer connector assembly torque to turn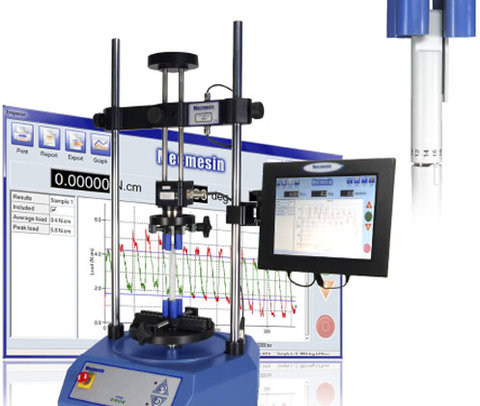 Insulin pen operational torque tester
Pharma products and raw materials testing
Our range of OmniTestTM Universal Testing Machines enable the raw materials for packaging, products and components to be accurately characterised in tension and compression, up to 50 kN.

Mecmesin's VectorProTM software is designed to help facilitate meeting FDA 21 CFR Part 11 requirements, with its database architecture and strict operator permissions features.
Extensometer connectivity and a comprehensive suite of materials testing calculations are included:
Ultimate tensile strength (UTS)
Stress and strain at break
Young's Modulus
Yield and 0.2% offset yield
3 and 4-point flexural modulus
We can test the physical properties of solid and semi-solid samples to evaluate the impact of different ingredient formulations on manufacturing processing parameters and product texture:
Aspiration and evacuation syringeability
Cream and gel consistency and flow
Capsule burst resistance
Tablet hardness crush, snap
Gel strength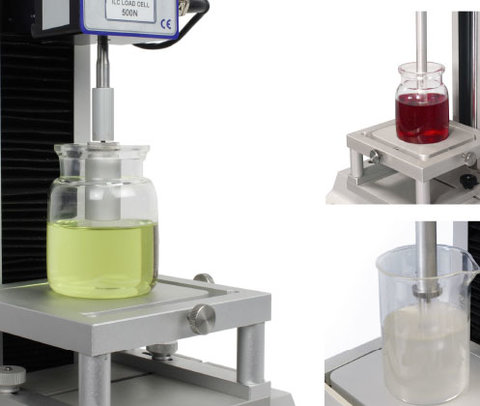 Gel Bloom Strength testing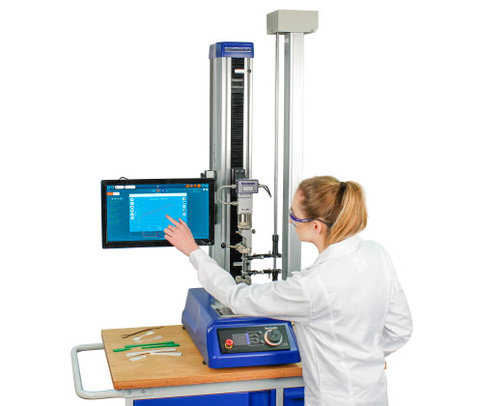 Stress-strain characterisation of raw materials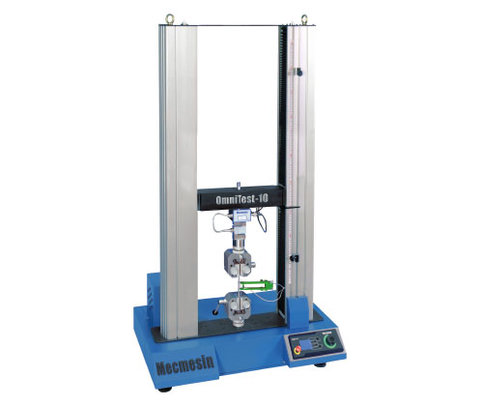 High-strength materials testing capacity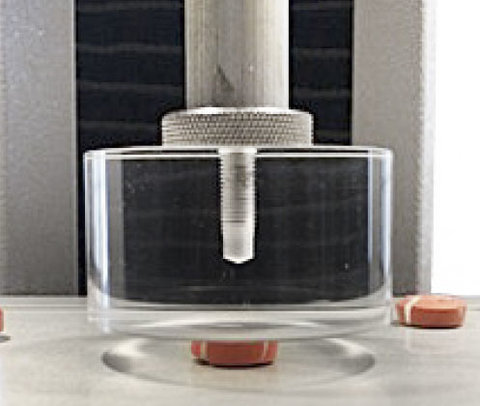 Tablet crush testing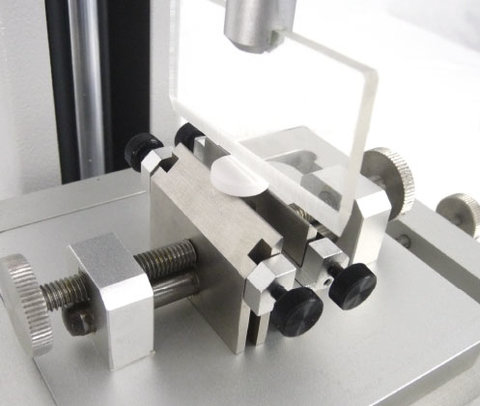 Tablet hardness snap testing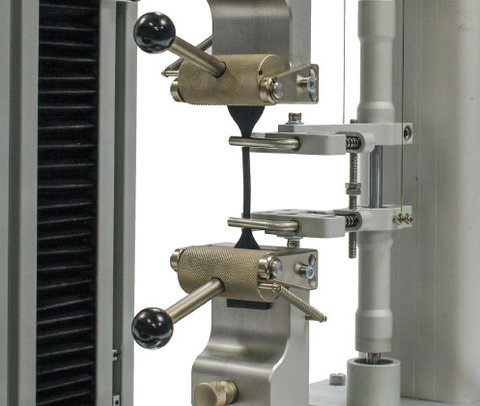 Accurate instrumentation for elongation measurement
Packaging systems testing including CRCs and sterile
If you manufacture or supply primary, secondary or tertiary (transit) packaging, you need accurate and reliable testing systems to apply stringent industry standard test methods:
Openability – peel and tear
Sharps container puncture resistance
Strength - top-loading and crush
Labelling - adhesion and friction
Closure torque testing involves a range of tests for events designed into screw caps and unthreaded stoppers.
This includes the torque to remove or apply the closure and also the measurement of the effort required to overcome safety features:
Child-Resistant Closures (CRC)
Evaluate push and twist designs
Breach tamper-evident features
Mecmesin's versatile motor-driven testing equipment ensures constant rotational speed control for ultimate repeatability and accuracy. Our fixtures hold flexible specimens without affecting the results.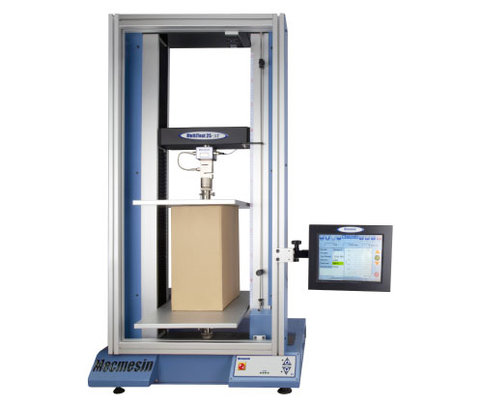 Transit packaging box crush test
Computer-controlled motor-driven closure tester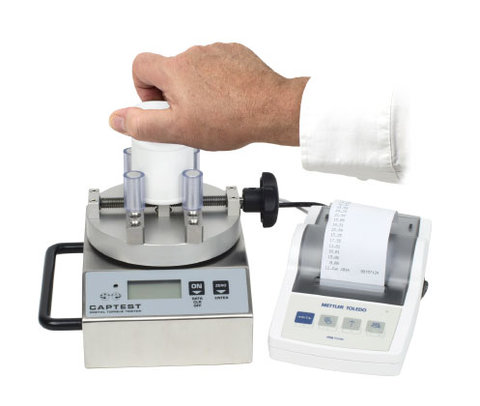 Digital cap tester designed for pharma labs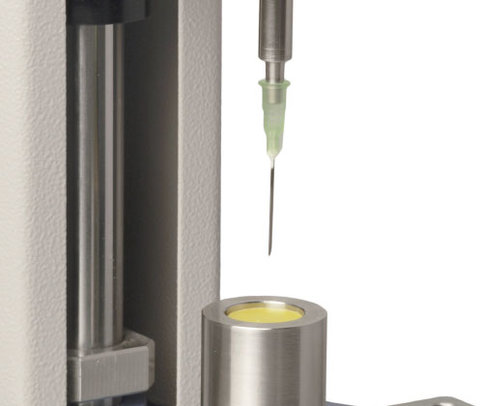 Sharps bin material penetration resistance
Actuation force of a pump dispenser
Easy-to-use manually operated closure tester
Child Resistant Closures need specialised testers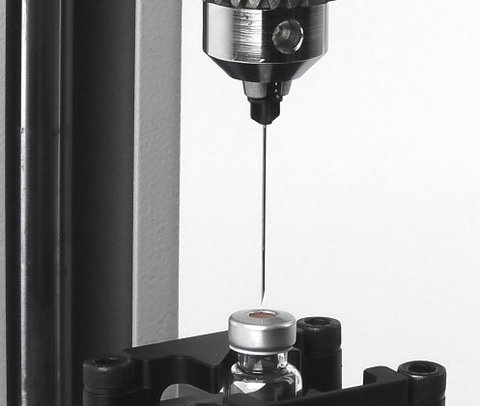 USP testing of elastomeric closure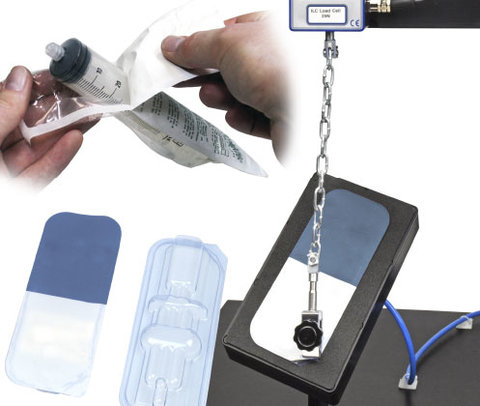 Highly accurate sterile packaging peel testing