Image: Atomwise CEO and co-founder Abraham Heifets
Cell therapies might revolutionise treatment for multiple sclerosis patients
A range of cell therapies and gene-modified cell therapies are in development for multiple sclerosis and have the potential to impact the field, say GlobalData analysts.
Dr Judith M. Sills. Credit: Arriello
Dr Eric Caugant. Credit: Arriello
While the treatment options for multiple sclerosis (MS) patients are growing each year with the approval of new agents, all of the currently marketed treatments only slow the disease's progression and sometimes carry risks of severe side effects, such as liver failure or the development of viral infections. However, new mechanisms of action (MoAs) are in constant development, with some of the more innovative ones utilizing cell-based therapies. Currently, there is a range of cell therapies and gene-modified cell therapies in development, from the discovery stage to Phase II clinical trials, with six different cell therapies in Phase II development.
While the current MS market offers efficient treatment options that can significantly reduce the relapse rate and disease progression, such as Tysabri or Gilenya (reduction of relapses by 68% [NCT00027300] and 54%, respectively, in comparison to placebo [NCT00340834]), there are no available agents that can fully cure MS or at least reduce the relapse rate further, halting the progression of the disease. This situation could potentially be improved through the use of cell therapies. The broader goal of these treatments is to restore homeostasis in MS patients by introducing modified or unmodified cells—mesenchymal stem cells, T-reg cells, or tolerogenic antigen-presenting cells, among others—into a patient, in hopes of inflammation reduction and neuron regeneration.
While efficacy is crucial when evaluating pipeline cell therapy products, it is also important to consider side effects, as these will dictate patients' behavior towards this novel treatment modality and secure the drugs' positions on the market. While newer small molecule and biologic disease-modifying therapies (DMTs) only carry the risk of side effects such as flu-like symptoms or headaches (for example, Aubagio or Copaxone), DMTs such as Tysabri or Tecfidera are associated with an increased risk of progressive multifocal leukoencephalopathy, a rare viral brain infection. Thus far, cell therapies in development for MS have been found to be well tolerated by patients with no severe side effects; examples can be seen in the results of the Phase II clinical trial for NeuroGenesis's NG-01 (NCT02166021) or the Phase I/II trials for Imstem Biotechnology's IMS001 (NCT04956744) and Atara Biotherapeutics's ATA-188 (NCT03283826).
However, as cell therapies are mainly in early-stage clinical trials, there is no guarantee how useful they might be for wider populations of patients in later phases of trials. For example, this trend can be seen for ATA-188. In the Phase I/II EMBOLD trial (NCT03283826), ATA-188 failed to demonstrate any significant improvement in the expanded disability status scale among progressive MS patients during an interim analysis conducted in July 2022. The mediocre interim data led to a large drop in Atara Biotherapeutics's stock price. Nonetheless, after the recommendation from the study's Independent Data and Safety Monitoring Committee, the study continued. On October 26, 2022, Atara Biotherapeutics announced the updated trial results, showing the stabilization or easing of disability in most of the patients with nonactive, progressive forms of MS. These results highlight how volatile early clinical trials can be for cell therapy products and the many factors that can influence the journey of these products to market.
Currently, no drugs are in Phase III development; the rest of the pipeline includes six agents in Phase II, four in Phase I, 28 in pre-clinical stages, and two in the discovery stages (Figure 1).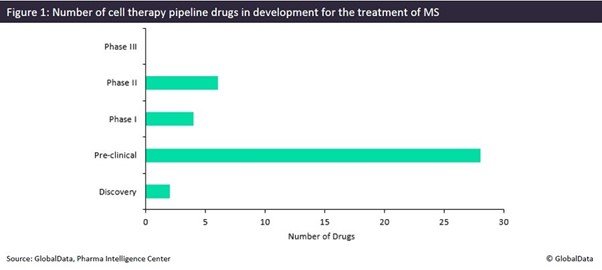 Main image credit: Getty Images/ janiecbros