Image: Atomwise CEO and co-founder Abraham Heifets
Implementation of electronic health records will improve the quality of care
Electronic health records (EHRs) are expected to drive big changes in the provision of healthcare and clinical research delivery, write GlobalData analysts.
Dr Judith M. Sills. Credit: Arriello
Dr Eric Caugant. Credit: Arriello
The increasing digitisation of the healthcare sector is enabling real-time access to patient-related data in a manner that was not previously possible. With more healthcare facilities transitioning from paper charts to electronic records and electronic health records (EHRs) becoming more integrated and technologically advanced, EHRs are expected to drive big changes in the provision of healthcare and clinical research delivery.
The adoption of EHRs has the potential to improve patient care by enabling timelier, safer and more cost-effective decision-making. It can also lead to more personalised treatment approaches and lay a stronger foundation for value-based care.
GlobalData's recent physician survey-based report, Electronic Health Records – Physician Perspective, revealed that overall, more than 75% of healthcare professionals agreed that the implementation of EHRs can lead to better patient care (Figure 1). For example, the adoption of EHRs can increase safety by reducing the possibility of medical errors, ensure more coordinated care by facilitating timelier data sharing, increase patient empowerment by allowing them to manage their own data, and improve clinical research by harnessing the power of big data to develop new treatments and healthcare provision pathways.
According to the same report, physicians from the UK, Spain and China were the most positive about the ability of EHRs to increase patients' quality of care. This may be tied to a previous finding derived from the same survey, highlighting that Spain and the UK had the highest percentage of respondents using 'all-electronic' patient records compared with the other surveyed European markets (France, Germany and Italy—Figure 2). Despite the disputed success of their early EHR implementation projects, Spain and the UK were among the first countries to start piloting and establishing EHRs in the 5EU (France, Germany, Italy, Spain and the UK).
China, on the other hand, had the highest percentage of HCPs using 'all-electronic' or a mix of paper and electronic records across all surveyed geographies. This high EHR uptake in China may be a result of the government's strong stance on the adoption of innovative technologies in healthcare.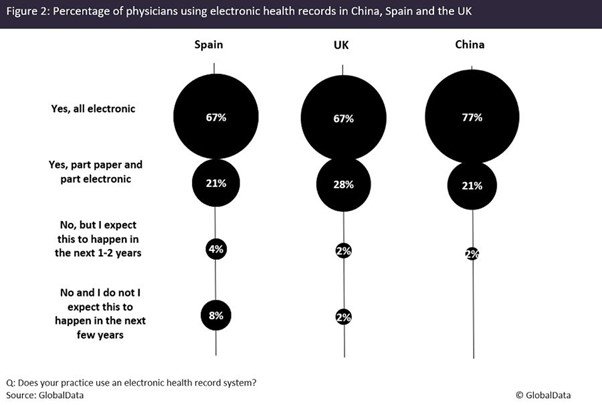 Despite the initial slow acceptance of EHRs, they continue to proliferate and evolve over time, becoming a fundamental part of modern healthcare. While the implementation of EHR systems is a complex, time-consuming and challenging process because it consists of various intricate factors related to human, technical and organisational elements, it is a crucial element required to meet patients' ever-increasing healthcare needs. EHRs are helping to create a more sustainable health information network that holds latent promise to address the need for timely, reliable and more efficient healthcare.