Image: Atomwise CEO and co-founder Abraham Heifets
Will Russia's invasion affect biopharmaceutical licensing agreements?
Western sanctions may make companies cautious about entering any strategic alliances with or receiving any capital from Russia, according to GlobalData.
Dr Judith M. Sills. Credit: Arriello
Dr Eric Caugant. Credit: Arriello
Russia's invasion of Ukraine has led to punitive Western sanctions, resulting in biopharmaceutical companies scaling back business in Russia, where there are currently only a few licensing agreements for innovator drugs involving Russian companies. Leading biopharmaceutical companies have co-signed a letter requesting others to suspend further business collaborations with Russian companies. The majority of licensing agreements with Russian companies that were initiated between 2017 and 2021 involve the commercialisation, manufacturing and/or distribution of innovator drugs in Russia. The sanctions do not apply to the supply of essential medicines to Russia, but may make companies cautious about entering any strategic alliances with or receiving any capital from the country.
Infectious disease was the top therapy area for licensing agreements involving both innovator drugs and Russian companies, according to GlobalData's Deals Database Pharma Intelligence Centre. A total of 70% of marketed innovator drugs were involved in licensing agreements with Russian companies, according to Figure 1.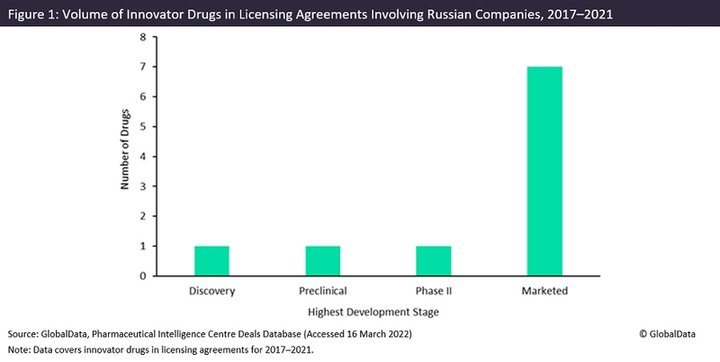 On 31 May last year, Bayer signed an agreement with NovaMedica, receiving an exclusive license for the manufacturing of Reliefipin, a treatment of proctologic diseases, in Russia. Despite this, the German biopharmaceutical giant was one of the first to suspend non-essential business in Russia while maintaining the supply of essential medicines to Russia. On 7 July 2021, Huons Global announced that it had exclusive marketing rights for Russia's single-dose Covid-19 Vaccine, Sputnik Light, in South Korea. Sanctions have been levied, however, on the Russian Direct Investment Fund, which helped fund and sponsor the development of the vaccine. Following Russia's newly strained relations with South Korea due to the latter's opposition to the war in Ukraine, Huons Global announced its immediate termination of the manufacturing deal on 10 March this year.
In 2017, Japan-based Otsuka entered a licensing agreement deal (through its Germany-based subsidiary) with Russian company R-Pharm for the manufacture and commercialisation of the Deltyba (delamanid), a treatment targeting multidrug-resistant tuberculosis in adult patients in Russia. If terminated, Otsuka could find it impossible to progress and lose out on capital generated from sales of Deltyba in Russia.
Although the long-term implications of the sanctions imposed on Russia are still unclear, the termination of strategic alliance deals involving Russian companies could result in a few companies losing revenue generated from the commercialisation of innovative drugs in the country. The number of strategic alliances involving innovative drugs with Russian companies is, however, relatively low in relation to those involving Western countries. As such, this will likely only cause limited loss for the companies involved.