Image: Atomwise CEO and co-founder Abraham Heifets
Fall from grace? What 2022 may have in stock for biopharmaceutical SPACs
It remains to be seen whether the special purpose acquisition company (SPAC) trend will continue as markets rebuild post-pandemic, as per GlobalData.
Dr Judith M. Sills. Credit: Arriello
Dr Eric Caugant. Credit: Arriello
An unforeseen increase of special purpose acquisition company (SPAC) mergers and acquisitions (M&As) was seen last year. SPAC M&As are an alternative route that allows companies to enter the public capital markets more quickly than the traditional route of initial public offerings (IPOs). This resulted in a rise in SPACs during the Covid-19 pandemic, with a striking 2,800% increase in SPACs announced from 2018 to 2021, according to GlobalData's Deals Database Pharma Intelligence Centre. Despite this, it remains to be seen whether this year will see the SPAC trend persist as economic markets slowly try to rebuild post-pandemic. On 12 January, a virtual panel discussion between financial experts took place at the Biotech Showcase 2022 to discuss SPACs, titled Finance: The 2022 Outlook.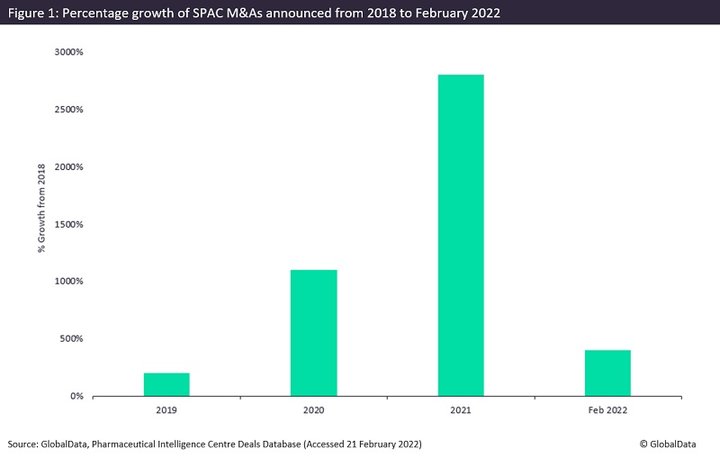 The gradual increase in biopharmaceutical SPAC M&As over the last three years saw a peak last year with the announcement of 29 deals. The third quarter (Q3) of the year had the highest number of announced SPACs. But Camille Samuels, a panellist and partner at Venrock, noted doubts on SPACs, saying that they were allotted 'excessive airtime relative to their strategic importance long-term in all sectors'.
Tim Opler, partner and co-founder of Torreya, weighed in on the decline of SPACs, noting that, although SPACs 'allow a company to use M&A documents…which is inherently quicker', traditional IPOs are 'generally the right way to go' to enter the public market. Opler expressed his reservations about the rise of SPAC M&As for the future, adding that 'in a normal market, which is slowly happening this year, a SPAC is of less value' as companies 'still have to raise money' from investors in their M&A to buy out their acquisition targets.
Speaking at the panel, Gabriel Cavazos, senior managing director at SVB Leerink, reiterated that 'the SPAC market is challenging, currently', adding to the pressure on investors. Cavazos referenced the recent freefall of biotech shares, forcing investors to push companies 'that recently took public in 2021 and 2020' to now trade 'below cash'. This 'puts pressure on the crossover market we are hearing from traditional crossover investors', who invest in both privately held and publicly traded companies. With the bursting of the biotech bubble, many immature companies that went public with SPACs could experience future lacklustre performances, low value returns and high-profile failures.
Despite SPAC M&AS still presenting a minority of companies with a viable and easy path to go public, there may be a return of the more traditional IPO route for companies this year as the preferred exit channel into the public capital market.