- ECONOMIC IMPACT -
Latest update: 28 February 2022
Swift development of COVID-19 vaccines and strong capital markets continue to drive Pharma growth.
Asian nations top GlobalData's COVID-19 economic recovery scorecard.
The consensus forecast for world GDP growth in 2022 is 4.4%.
GlobalData polls show that concern over the spread of COVID-19 remains volatile, as does business optimism.
Momentum of Global Economic Growth to Weaken in 2022 Amid Uncertainty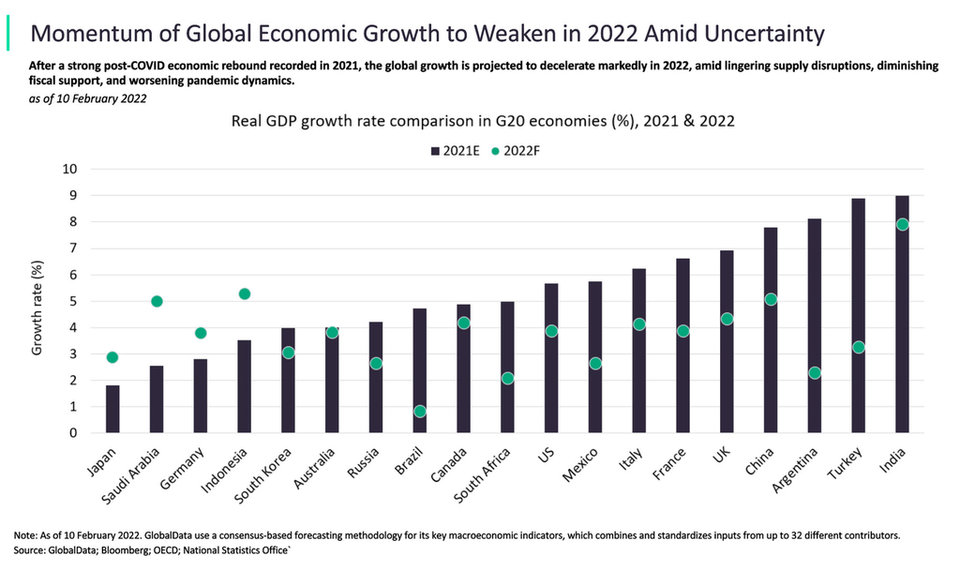 - SECTOR IMPACT: PHARMA -
Latest update: 2 February 2022
Developers with COVID-19 therapies and vaccines will benefit in the short-term, as intense investor interest will drive up stock prices and provide these companies with cash and resources to further pipeline development.
In Q1 2020 Bio/Pharma companies with a COVID-19 drug in the pipeline saw a smaller decrease in market cap than companies without a COVID-19 drug in the pipeline.
Stalled clinical trials created a work vacuum for CROs and CDMOs but disrupted trials are slowly starting to resume. CMOs and Excess Capacity Contract Manufacturers with secure supply lines will benefit from short term boost in generic drugs manufacturing needed to treat COVID patients. Outsourcing partners must deal with issues surrounding a potential excess of client needs upon initiation of future trials, with guidance from regulatory agencies still pending.
Key Market Pharma Developments