Redefining the platform device model
The injectable drug delivery industry as a whole has been moving towards developing platform technologies. The current notion of platform devices is, however, still relatively premature compared to the other areas of the industry. That is having a preset design with cohesive architecture that can be shared by all of the products in the same family to support faster development time and to reduce costs. But the conventional scope is now posing new challenges to device developers, especially when a distinct industrial design or a specific primary container type becomes a necessary element to accommodate new generations of medications and different patients' needs.
What these device companies need ultimately are device designs and production processes that can offer flexibility beyond the traditional platform technology – a modular platfom technology.
Modularity built upon a platform
The concept of modularity originates from the general attempt to operationalize and understand many complex systems. In a modular platform, the product is divided into modules that can be swapped with other elements of different sizes or functionality to create variants.1 Asset flexibility, cost of goods, and investment deferment are some of the key drivers behind modular systems.2 When done correctly, modularity supports standardization, repeatability, and customization.
Modularity in the autoinjector industry thus refers to having a solution that leverages the benefits of a platform device technology while still allowing various customizations in the device design and development models. Such a concept is reflected in the latest generation of SHL Medical's Molly®, whose modularization enables bespoke customizations in the front and rear sub-assemblies of discrete device projects.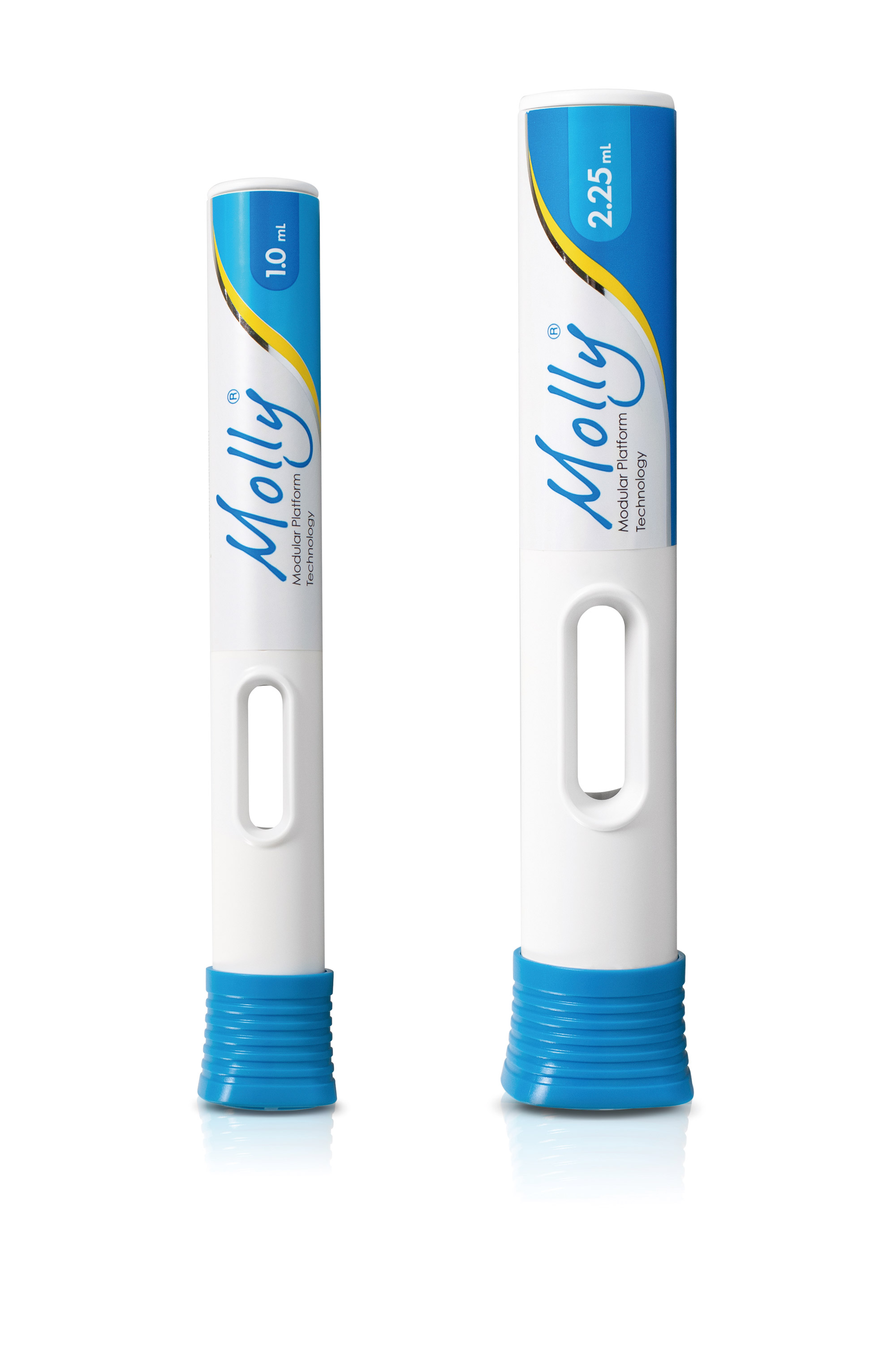 Molly® autoinjector is built upon a modular platform technology designed to support shorter development timelines
As a modular platform, Molly's device designs can be configured according to pharma and customers' needs. Both the 1.0- and 2.25-mL Molly autoinjectors are equipped with a modular design that enables a certain level of flexibility for customization in its industrial design while maintaining its rotator-based mechanism. With front and rear modules comprising its core components, Molly enables design feature modifications to differentiate a device's appearance − such as the color of the cap and needle covers − for branding and market differentiation as well as for patient distinguishability and usability.
Molly's modularity further extends to various layers of the device development process, including component assembly and final device testing. The mature infrastructure of SHL's in-house design and development ecosystem makes it possible to share manufacturing assets across multiple Molly device projects, resulting in the simplification of the development process and the optimization of project timelines.
Flexibility is key
The autoinjector market will become increasingly patient-focused, creating an imperative for flexible and modular tools and technologies. As one of the world's first high-volume (≥2.0 mL) autoinjectors to be commercialized, the flexibility offered by Molly's modular platform technology has been successfully embodied in multiple commercial launches for various disease areas. The success further validates the stratification of the device offerings in the market and puts the said technology in a unique position.
The true value of Molly, however, lies in its flexible design and development model that allows for future extension – including production scalability and lifecycle management − in response to industrial advancements, such as in data science, connectivity, and sustainability.