Non-invasive up to 6 logs sterilization by Pulsed Light or Pulsed El. Fields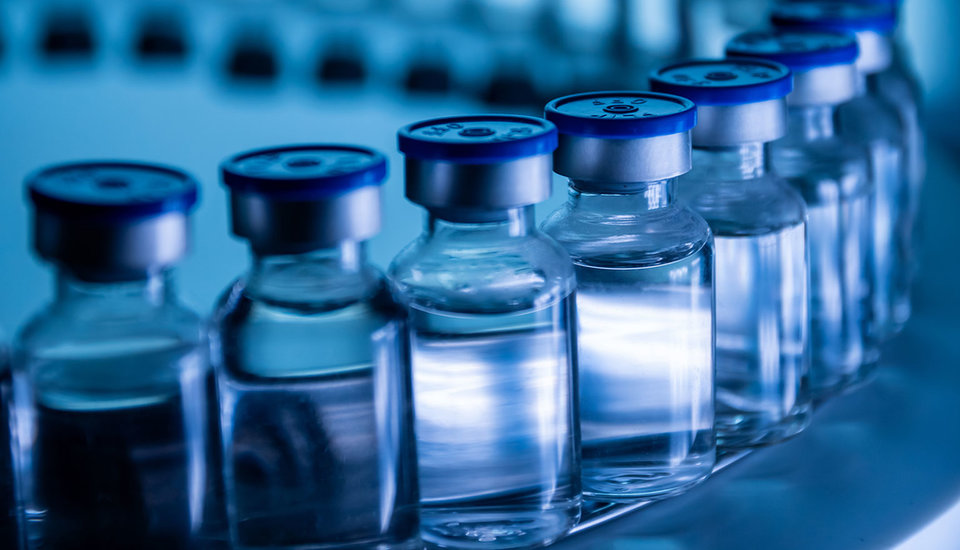 Our PL systems can fully deactivate UV resistant microorganisms including spores B. Pumilos as it is shown on the chart below. Those and other our results since 1992 attracted many universities and companies, including Pfizer and Baxter.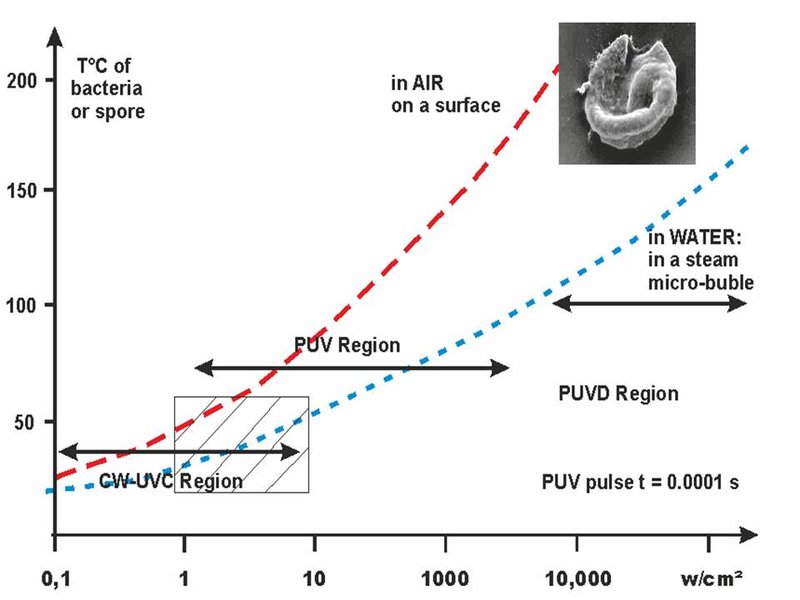 Data for the chart above were first published in 2001 and represent three basic working regions for Pulsed UV Light as a function of a single pulse energy densities at a sample level. It is used for finding conditions for the full sterilization through a physical disintegration of UV resistant micro-organisms
Pfizer, Baxter and other pharma companies are interested in those for sterilizing transparent liquids in glass vials or in transparent plastic bags.
The best to reach this objective is to use our Intense Pulsed (UV) Light R&D systems with broad pulsing parameters as shown below. This and similar our systems, often customized, were used at various universities to generate data for many publications referenced Worldwide.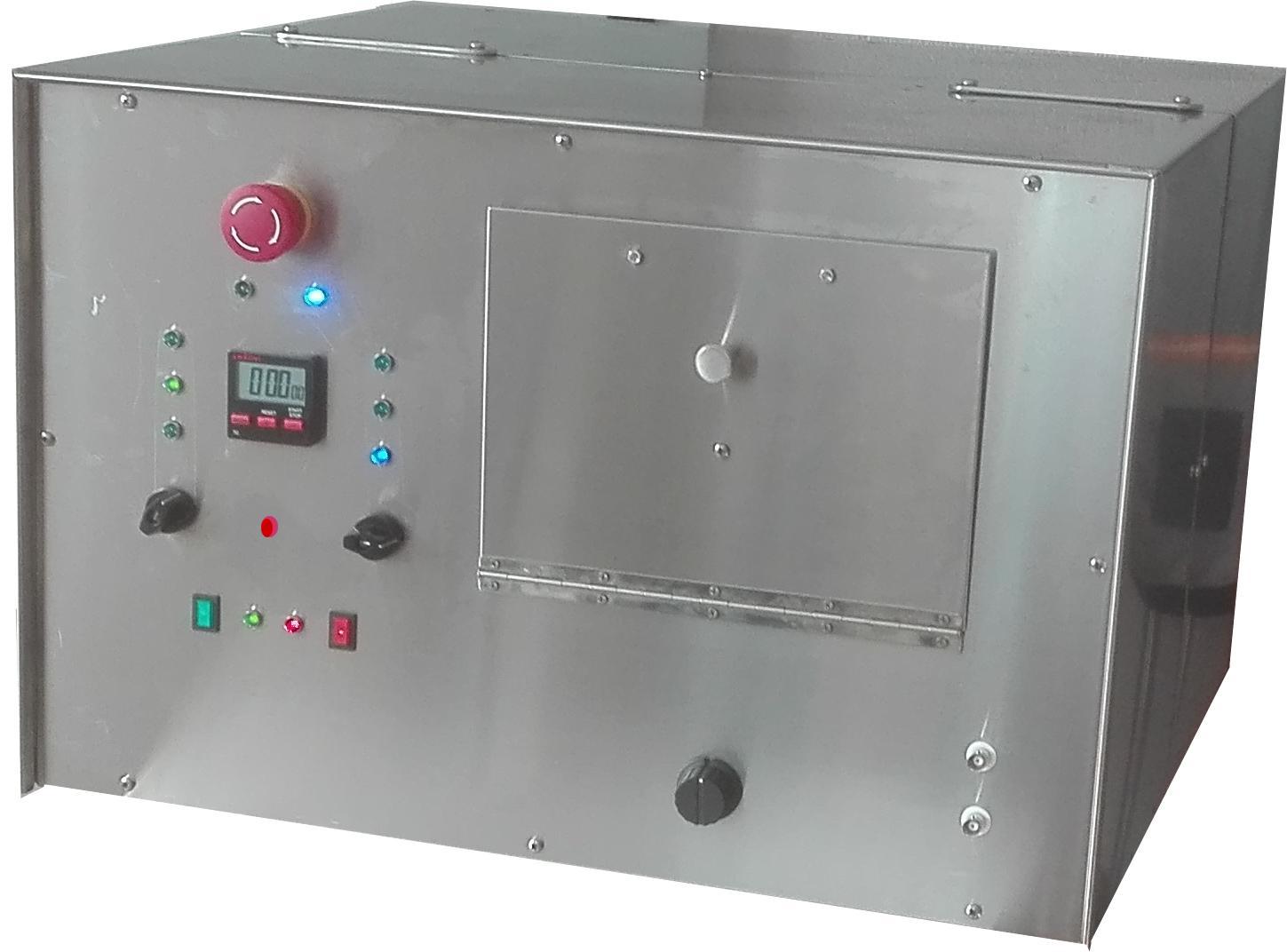 The configuration of this R&D systems allows scaling it up to production PL tunnels shown below.

The above is the image of a general UV tunnel with entry and exit chambers which prevent leaking UV light out. In PL tunnels these two chambers are not necessary when products get in and out the UV chamber through gates timely opened between UV pulses.
Up to 6 logs non-invasive sterilization of liquid / creamy products with Pulsed Electrical Fields (PEF) systems.
While the basic PEF process is known since decades as stretching bacterium till its eruption by sharp pulsing electrical fields, each practical case, aside of already known for clear juices, requires overcoming specifics which diminish the process effectiveness even down to nothing.


The PEF R&D system below has the advantage of having very broad pulsing parameters and latest available improvements to PEF chambers. It can be also customised to castomer´s objectives with the guidance in tests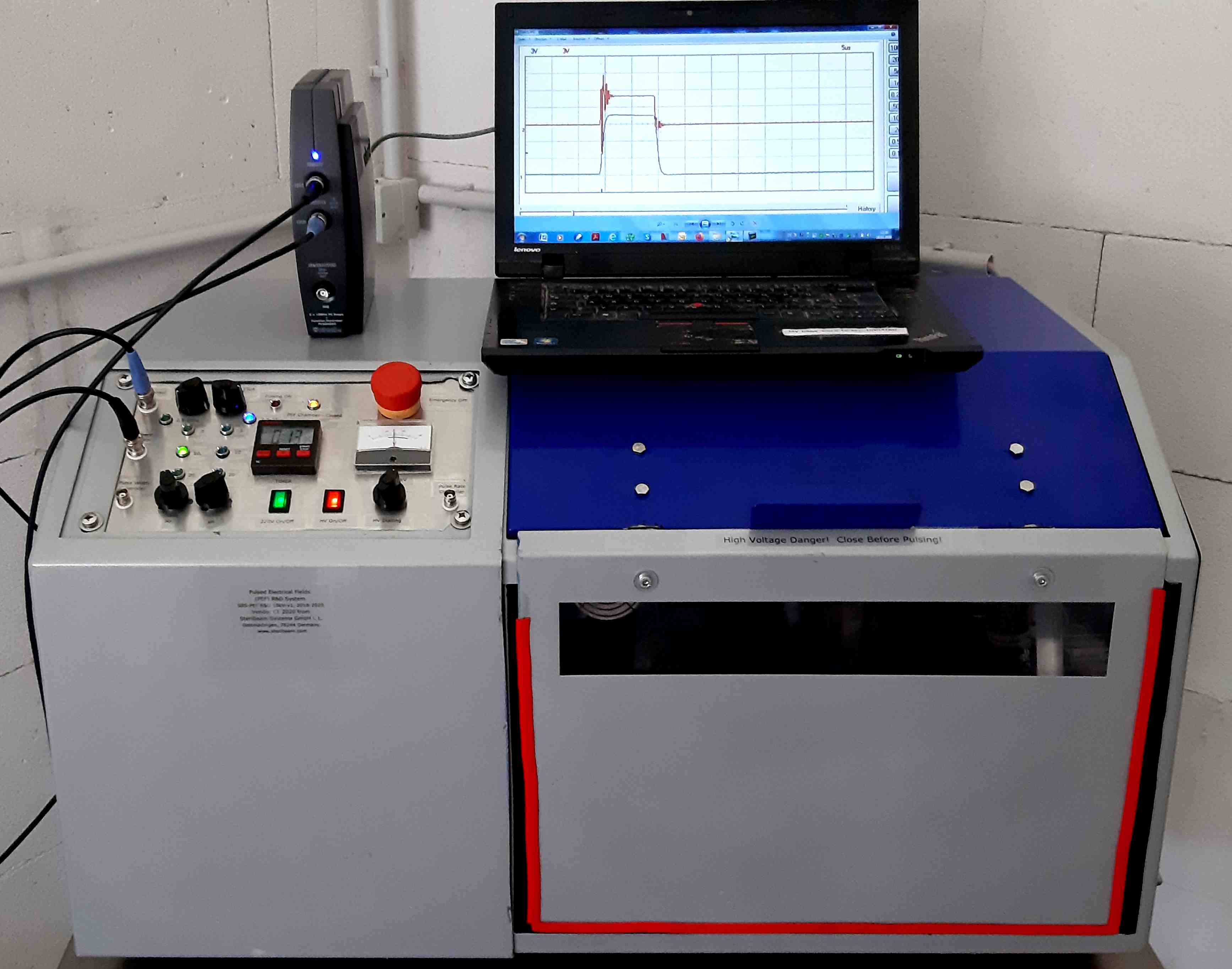 Data obtained with the above R&D system allows to construct a customized PEF Pilot, like below with two stage PEF chambers, which can also employ broad pulsing parameters. The system below is for sanitaion of filtered liquids at up to 500l/h with electrical fields up to 45kV/cm- It can deactivate common bacterial up to 6 logs without changing original product properties.

The PEF system below can have the option for sanitizing creams or for PEF assisted extraction of vegetative colours and juices from vegetative leaves, roots or grass.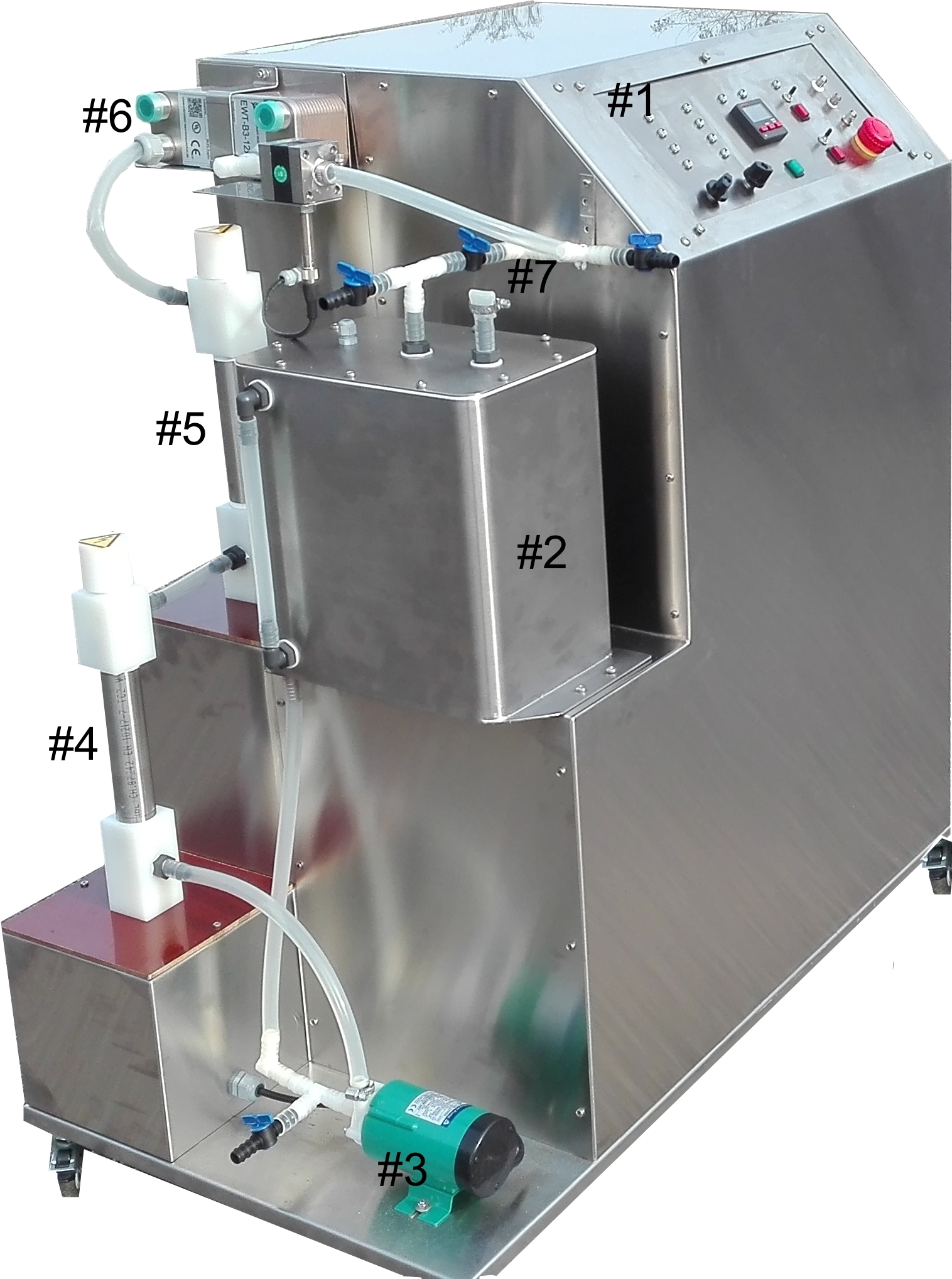 "Markings on the above photo are explained below:

#1: The control panels with analogue controls:

On-Off switch, 2 rotary switchers to select 4 pulse rates and 4 pulse durations with LED control lights plus potentiometers for its both gradual changes within the same range, HV selector knob, the switch for a pump, HV on-off switch, timer for pulsing, emergency OFF-red push-button, 4xBNC connectors for a scope and system status LED lights, #2-25l batch vessel for a prolonged circulation of liquids through PEF chambers, #3: magnetic pump, magnetic pump 6-12l/min. #4 and #5 treatment coaxial high performance PEF chambers, #5 can be replaced with the PEF chamber to treat creams or for the PEF assisted extraction of juices from grass, roots, etc.

#6: optional liquid cooler (tap or refrigerated water) and the flow meter;

#7: valve systems to select between a flow-through and a batch circulation treatment;

The PEF pilot can be customized to meet customer objectives."
UV sanitation of powdered products.
The lab R&D Powder UV sanitation system partially shown below is the vortex type system where a nutrition powder is moved around a UV lamp by a forced air enriched with the Nitrogen gas. This and some modifications of this system were used for our customers. Our acquired data show good prospects of this approach.
Wek-tec offers this system for a long-term rent at a customer site as a rental DONATION including a guidance to a university or to a government agency.
Contact information