L
aunched in 1977 and organised by UBM, Pharmapack Europe has become the pharmaceutical industry's dedicated packaging, drug delivery, medical device and medical machinery event. The much celebrated Pharmapack Awards are held at the event, providing valuable insight into the kinds of products and solutions being developed within the industry.
The awards were separated into two categories – 'Exhibitor Innovation', to celebrate exhibitor products that were launched in 2017, or are in the prototype stages of commercialisation development, and 'Health Products' for pharma companies and suppliers that have worked to develop technological solutions for patient safety or drug delivery.
Exhibitor Innovation Awards: BIOCORP, Onejet
BIOCORP is a French company founded in 2004, specialising in the development of drug delivery devices. Its latest product, the Onejet, is a motor-driven auto injector, which won the award for 'Patient Safety and Convenience' for its innovation.
Motor-driven devices are advanced when compared to much of the market, but with Onejet, BIOCORP has managed to create a disposable, Bluetooth connected product that is compatible with standard primary containers. Crucially, its motorisation can also be adjusted to allow for any density of biologic medicines, providing a simple solution to the delivery of highly viscous drugs.
The Bluetooth connectivity allows for injection data such as dose quantities, and time and date of dose to be transferred to a mobile app, meaning vital delicate information can be monitored by the appropriate parties, with approval from the patient.
In a newswire in response to the award, BIOCORP deputy CEO Eric Dessertenne commented: "Our whole team is very proud of winning this third Pharmapack Award in four years... It is today Onejet's turn to be rewarded during this major health exhibition. We are confident that this device will bring to our pharma companies partners a new tool for the safety and comfort of their patients' treatments."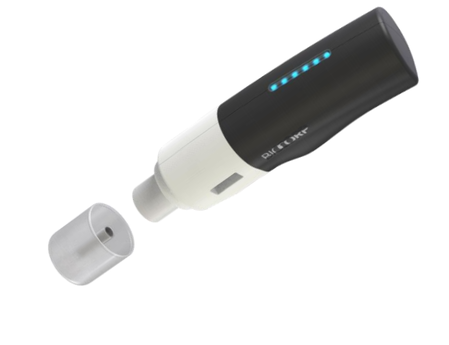 BIOCORP, Onejet.
Image courtesy of PharmaPack Europe.
Exhibitor Innovation Awards: SFM

Medical Devices, nextaro
SFM is a German original equipment manufacturer (OEM) providing needle and single-use medical device production solutions. Winning the award for 'Patient Centricity and Customisation', its product nextaro is described as the 'quality benchmark' for reconstitution of lyophilised pharmaceutical components.
nextaro utilises a two component plastic solution and a patented screw system to optimise handling, and the modular design of the system allows it to be adapted to the requirements of a variety of lyophilised drugs. Lyophilisation is essentially the freeze-drying of a product, and can be used to easily process delicate liquids and remove water without having to excessively heat – and therefore risk the constitution – of a medicine or ingredient. Around 16% of the top 100 pharmaceutical and 35% of biological drugs are lyophilised, with much research still being carried out in the area.
The main criticisms of the lyophilisation process are that equipment is costly and complex, and that handling and processing can be overly complex and lengthy, making the arrival of nextaro well-timed. SFM has stated that user safety was its focus point in the development of the product, leading them to concentrate on stability, haptics and handling.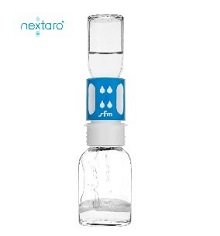 SFM Medical Devices, nextaro.
Image courtesy of Phar maPack Europe.
Exhibitor Innovation Awards: West Pharmaceutical Services, SelfDose patient-controlled injector
US-based West is a leading provider of integrated containment and delivery systems for injectable medicines. The SelfDose patient-controlled injector helped the company take home the 'Ease-of-Use and Patient Compliance' award at this year's event.
Designed for simplicity, the SelfDose injector has boiled down the self-injection process to two steps. The product merely requires the patient to remove the cap and press the applicator against the skin to apply a subcutaneous injection. Audio and visual end-of-dose indicators are included so that patients can be certain of a correct application of the prescribed dose. A passive safety system also covers the needle both before and after the injection to help avoid needlestick injuries, in both the dosing patient and any additional caregiver.
"There are many patients who could benefit from a drug delivery system like SelfDose to make the injection experience more friendly and less intimidating, commented West vice president Erin O'Brien in a news release responding to the award. "We are focused on designing and delivering innovative options that consider a patient's unique needs."
West Pharmaceutical Services, SelfDose patient-controlled injector. Image courtesy of PharmaPack Europe.
Health Product Awards: GSK Consumer Health, 'Voltaren No Mess' applicator
Proof that success doesn't breed complacency, GSK Consumer Health was awarded a Health Product Award for its development of a 'no mess' applicator for its Voltaren pain relief gel, already one of the world's favourite products in the category.
The UK-based company found that there were several barriers to entry for pain relief gels that were putting off some consumers, many of whom would typically opt for tablet alternatives, such as paracetamol. The 'No Mess' applicator addresses these concerns, namely that gel application can be messy, and that hands needed to be washed after every dose. The new packaging has garnered praise for not only being simple to use, but also hygienic. The applicator is actually the product's cap, and comes in the form of a pull/push mechanism made from plastic.
According to GSK global packaging development manager Sylvain Fradin, the nature of this mechanism helps reduce overdosing risks, as the applicator allows the cap to close by itself when gel is applied to the skin, unlike the industry standard of sponge or roll-on applicators.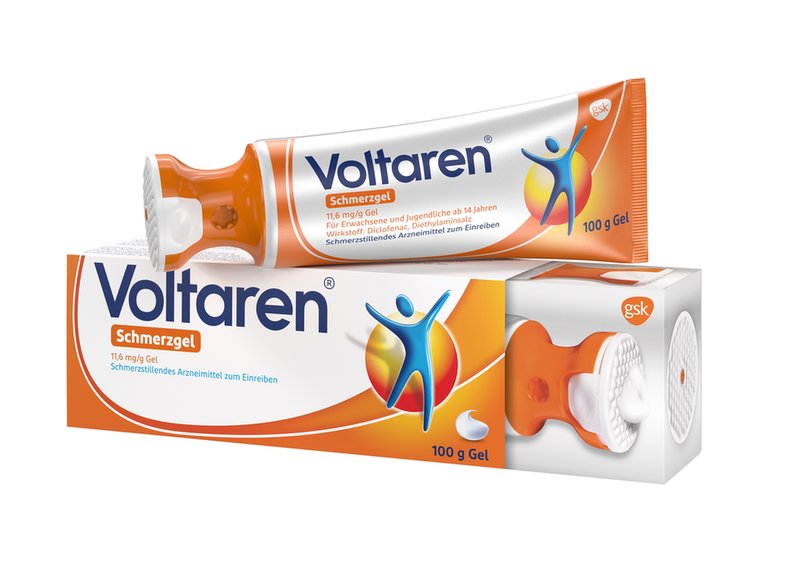 GSK Consumer Health, 'Voltaren No Mess' applicator.
Image courtesy of PharmaPack Europe.
Health Product Awards: UCB Pharma, CIMZIA AutoClicks pack of 2 prefilled pens
Global biopharmaceutical company UCB Pharma received an award for design based on patient insights for its CIMZIA AutoClicks product, which seeks to address some of the issues faced by people living with specific severe diseases.
CIMZIA is a biologic medication injected under the skin prescribed to tackle inflammation that occurs as a result of an overactive immune system. According to UCB, the product is the first and only PEGylated biologic treatment for moderate to severe rheumatoid arthritis, psoriatic arthritis, ankylosing spondylitis and moderate to severe Crohn's disease.
Following the launch of the CIMZIA AutoClicks pen, UCB realised that especially for rheumatoid arthritis, limited hand dexterity can make it difficult to self-administer the medication needed to treat the issue. Based on patient insights, UCB has developed a packaging solution to address these issues. The company has said that creating more value for people living with severe diseases is core to its ethos.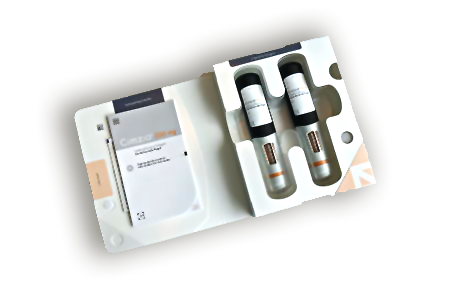 UCB Pharma, CIMZIA AutoClicks pack of 2 prefilled pens.
Image courtesy of PharmaPack Europe.
Health Product Awards: Virbac, All In One Contactless Multidose Delivery Cap
Demonstrating how innovations in animal health can have wide-ranging implications on the human pharmaceutical market, the All In One Contactless Multidose Delivery Cap from Virbac, the eighth largest animal health company worldwide, was noted as a particularly safe and easy to use product solution.
Virbac claims that its product is the only 'all in one' solution on the market for the application of liquid products by users, and the company has focused on providing a safe and easy to use method of injecting multiple doses in the same delivery. User constraints were taken into account when designing the product, with Virbac noting that its 'technical solution' has been developed to meet pharmaceutical quality requirements.
While the company focuses on animal health, it believes that the multidose delivery cap is innovative not only in the veterinary sector, but also throughout human health markets.
Virbac, All In One Contactless Multidose Delivery Cap.
Image courtesy of PharmaPack Europe.