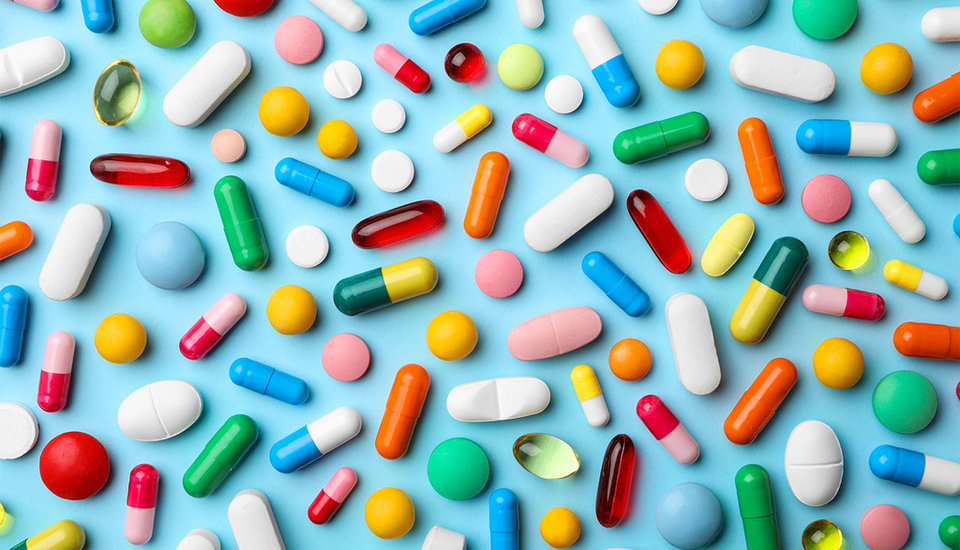 Image: Atomwise CEO and co-founder Abraham Heifets
Biologic sales forecast to pass innovative small molecule sales in next five years
GlobalData has forecast biologic sales to significantly overtake sales of small molecules by $120bn by 2027.
Dr Judith M. Sills. Credit: Arriello
Dr Eric Caugant. Credit: Arriello
According to the recent GlobalData report Looking Ahead to 2022 – The Future of Pharma, sales of biologics are forecast to significantly overtake those of innovative small molecules over the next five years, with biologic sales forecast to be $120bn greater than small molecule sales by 2027. This emphasises the continuing trend seen within the pharmaceutical industry of the continuing rise and dominance of biologics, and the whole sector pivot towards them was highlighted within the GlobalData webinar Trends in New Drug Approvals and Manufacturing.
As shown in Figure 1, nearly all of the subtypes of biologics GlobalData tracks are expected to grow significantly in sales revenue and will account for 55% of all innovative drug sales by 2027. Biologics sale are currently largely driven by monoclonal antibodies such as Ono Pharmaceuticals' Opdivo, Regeneron Pharmaceuticals' Dupixent and Merck's Keytruda, which are forecast to account for 46% of all biologic sales in 2027. Keytruda alone, which is marketed for oncology indications like non-small cell lung cancer, head and neck cancer and squamous cell carcinoma, is forecast to account for 4% of all biologics sales in 2027.
While monoclonal antibodies are projected to dominate biologic sales in 2027, gene therapies and gene-modified cell therapies are expected to display the greatest growth, with a forecast increase of more than 1,000% for both molecule types between now and 2027. Unlike monoclonal antibodies, however, gene therapy sales are being driven by currently unapproved pipeline therapies such as Rocket Pharmaceuticals' RPA-501, which is currently only in Phase I and is indicated for glycogen storage disorders, a rare genetic disorder.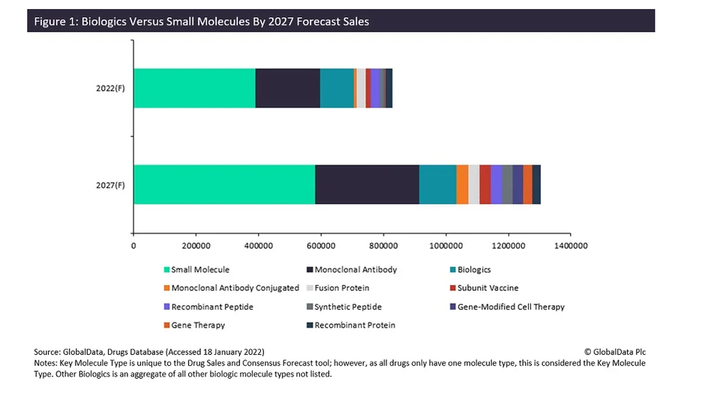 Despite the significant growth and predicted dominance of biologics in the future, small molecule sales are also forecast to continue to grow, with small molecule sales forecast to grow by 49% in 2027. This growth is driven by drugs for the central nervous system therapy area such as Bristol-Myers Squibb's Zeposia, which is indicated for multiple sclerosis and is forecast to become a blockbuster drug by 2027, with sales of more than $2bn.
Biologics have solidified their lead over small molecules and are now primary engines of value creation for large-cap pharma companies. As this trend continues, the increasing dominance of biologics within the sales of large-cap and mega-cap bio/pharma companies will be seen. This will have consequences not only for the sponsors, but also, as discussed in the webinar Trends in New Drug Approvals and Manufacturing, lead to an increase in contract manufacturing outsourcing for cell and gene therapies.